ROBERT N. ROBERTSON, LT, USN
From USNA Virtual Memorial Hall
Lucky Bag
From the 1934 Lucky Bag:
Loss
Bob was lost when USS Argonaut (APS 1) was sunk by a Japanese surface forces near Rabaul on January 10, 1943. He was Executive Officer at the time.
On Eternal Patrol lists him as a recipient of the Bronze Star, but have been unable to find this citation.
His wife was listed as next of kin.
Other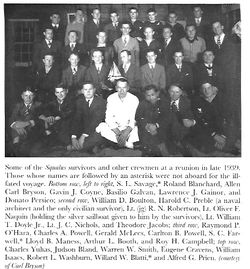 From Find A Grave:
Robert N. Robertson was the Navigation Officer of the submarine USS Squalus (SS 192) when she sunk on a test dive off Portsmouth, NH on May 23, 1939. 26 crewmen drowned in the flooding of the after compartments of the boat, but Robertson was among 33 who survived. They were rescued over the next two days by a diving bell.

Most of the Squalus crew worked on the salvage of the Squalus and Robertson and the entire officers and crew volunteered to serve on the refurbished Squalus, renamed Sailfish. However, the Navy had all officers re-assigned and only 4 Squalus crewmen sailed on the Sailfish.

Robertson was one four Squalus survivors lost in battle during WW II and the only one of the surviving officers to meet this fate.
Robert is one of 41 members of the Class of 1934 on Virtual Memorial Hall.