ALBERT H. CLARK, LCDR, USN
From USNA Virtual Memorial Hall
Lucky Bag
From the 1933 Lucky Bag:
Biography
From the 1953 edition of the book "Double Three Roundup," published by the class of 1933:
Al arrived at the Naval Academy from down East in Maine. Upon graduation he was one of those who was honorably discharged with one year's stipend as a Midshipman. But there was too much Navy blood in his veins and after one year of civilian life Al returned to the Navy in July 1934. During this year in the outside world Al acquired a wife in the person of Mary Crane of Washington, D.C.; they were married in Oxford, Maine on 24 July 1933.

Al's first duty was a one year tour in the CHESTER. He next tried his hand at small ships with a two year tour aboard the destroyer SOUTHARD. Still looking for smaller ships to serve in Al put in for submarine school and reported to New London in June 1937. Upon completion of the course he was ordered to the S-25 in Honolulu. Mary says that this was very pleasant duty hut that she put in many hours sitting on the dock while Al was busy with his "first love," — the engines and batteries of the S-25.

In July 1940 Al reported to the Navy Yard, Portsmouth, New Hampshire for duty in connection with fitting out the TROUT and he helped commission her later as Engineer Officer. Al and the TROUT completed many successful and interesting patrols, among them the mission to Corregidor when the TROUT returned with a ballast of gold bullion and silver. After a two months' tour on the staff of SubRon 6 Al assumed command of the TROUT in May 1943. The TROUT added several more successful patrols to her record under Al's command and on 16 February, 1944 she headed West from Midway for her eleventh patrol off the China Coast. She was never heard from again. In recognition of his valuable services during the war Al was awarded the Legion of Merit, the Army Silver Star Medal, 2 Bronze Star Medals, the Commendation Ribbon, the Purple heart (posthumously), and the Presidential Unit Citation (TROUT).

As soon as the war ended Mary and her three boys — Craig (17), Guy (14) and Rodney (11) — set off in a house trailer to hunt for a place to live. They finally settled in the Del Monte Forrest in a comfortable, rambling house overlooking the golf course just a few miles from the PG School in Monterey. Mary can be reached at P.O. Box 638 at the PG School. She is the publisher of an Army and Navy Shopping news called "Gadabout". In the summer of 1951 she flew East to sponsor the launching of the second TROUT at the Electric Boat Company in New London, Connecticut.

Mary tells us that the three boys are active in school and church affairs and spend their vacations hiking, camping, hunting and fishing in the Big Sur Mountains or in the Sierras.
Loss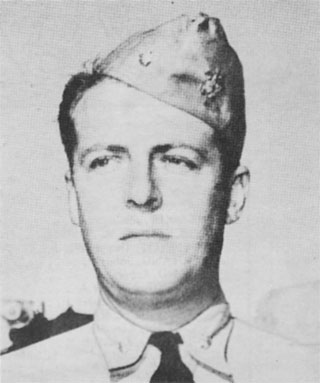 Al was lost when USS Trout (SS 202) was sunk, probably by depth charge attack, on February 29, 1944. He was the commanding officer, having taken command May 27, 1943. He was also a plankowner, had been executive officer, and was aboard Trout for each of her 11 war patrols.
His wife was listed as next of kin.
Career
From Fleet Organization:
Duty USS S-25 (SS-120) 1 Jul 1939 - 1 Jul 1940
Duty USS Trout (SS-202) 1 Nov 1940
Executive Officer USS Trout (SS-202) 1 Jan 1942 - 23 Dec 1942
Staff Submarine Division Sixty Two 31 Mar 1943
Captain USS Trout (SS-202) 27 May 1943 - Mar 1944
Lieutenant (j.g.) 29 May 1937
Lieutenant 1 May 1941
Lieutenant Commander (T) 1 Oct 1942
Wartime Service
From Wikipedia:
9th patrol — special missions
The Trout was now under the command of her former executive officer, Lt. Cdr. Albert Hobbs Clark, a "plank owner" (member of original ship's complement). From 27 May to 20 July 1943, Trout performed a special mission during an offensive war patrol to the southern Philippines. On 9 June, she missed a transport with three torpedoes. She then landed a five-man U.S. Army team at Labangan, Mindanao. On 15 July, the submarine fired a three-torpedo spread which destroyed the tanker Sanraku Maru. She contacted three small coastal steamers on 26 June and sank two of them with her deck guns. On 1 July, she sank Isuzu Maru with four torpedoes. Eight days later, Trout picked up a party of five American officers including Lt. Cdr. Charles "Chick" Parsons and AAF Lt. Col. William E. Dyess at Pagadian Bay on Mindanao and headed for Fremantle.

10th patrol — sub to sub
Trout stood out to sea on 12 August to patrol the Surigao Strait and San Bernardino Strait en route back to Pearl Harbor. On 25 August, she battled a cargo-fisherman with her deck guns and then sent a boarding party on board the Japanese vessel. After they had returned to the submarine with the prize's crew, papers, charts, and other material for study by intelligence officers, the submarine sank the vessel. Three of the five prisoners were later embarked in a dinghy off Tifore Island.

On 9 September, she fired three bow tubes at a Kaidai-class submarine off Surigao Strait. Thirty-five seconds later, there was a loud explosion which apparently stopped the target's screws. Trout's sound crew reported a torpedo approaching her port beam, and she went to 100 feet (30 m). After she heard a second explosion, Trout came to periscope level, but found no sign of I-182 which she had sunk. On 22 September, one of the remaining Japanese prisoners died of self-imposed starvation and was buried at sea.

The next day, the submarine sighted two ships with an escort. One was a freighter with a deck load of planes, and the other was a passenger-cargo. Trout fired a spread of three torpedoes at each of the targets. She saw and heard two hits on each. The freighter Ryotoku Maru sank stern first. Though depth charged afterwards and kept down for five hours, Trout surfaced and gave chase to the damaged transport, finding and attacking it with three more torpedoes before her escort could return.

As the transport was being abandoned Trout proceeded close aboard and passed 12 to 15 life boats. The enemy ship was ablaze and low in the water with her bow nearly awash. Sound heard a heavy explosion from Yamashiro Maru and, seven minutes later, Trout could see no trace of her. That night, the submarine set a course for Hawaii and arrived at Pearl Harbor on 4 October 1943.

The submarine was then routed back to the United States for a modernization overhaul at the Mare Island Navy Yard that included a complete rebuild of her conning tower, reduction of her silhouette by cutting down the fairwater, replacement of the 3"/50 deck gun with a larger 4 in (100 mm) piece, and installation of 18 additional bunks. She was ready for sea in January 1944 and returned to Submarine Division 162 at Pearl Harbor late that month.

The last patrol
On 8 February 1944, the submarine began her 11th and final war patrol. Trout topped off with fuel at Midway Island and, on 16 February, headed via a great circle route toward the East China Sea.

Japanese records examined after the war indicate that one of their convoys, Matsu No. 1, was attacked by a submarine on 29 February 1944 in the patrol area assigned to Trout. Carrying the 29th Infantry Division of the Kwantung Army from Manchuria to Guam, Matsu No. 1 consisted of four large transports escorted by three Yūgumo-class destroyers of Destroyer Division 31: Asashimo, Kishinami, and Okinami. The submarine badly damaged one large passenger-cargo ship and sank the 7,126-ton transport Sakito Maru, which was carrying the Japanese 18th Infantry Regiment. Asashimo detected the submarine and dropped 19 depth charges. Oil and debris came to the surface and the destroyer dropped a final depth charge on that spot, at the position 22°40′N 131°45′ECoordinates: 22°40′N 131°45′E. The submarine was using Mk. XVIII electric torpedoes, and it was also possible that one of those had made a circular run and sunk the boat, as happened with Tang.

According to the US Navy Muster Reports in the National Archives, On 7 April 1944, Trout was declared presumed Missing in Action with all 81 hands. On 8 April 1945, Trout was declared presumed lost with all 81 hands including Clark and his executive officer, Lt. Harry Eades Woodworth, both of whom had made all 11 war patrols.
Other
His widow sponsored USS Trout (SS 566), commissioned in 1952.
Silver Star
From Hall of Valor:
The President of the United States of America, authorized by Act of Congress, July 9, 1918, takes pleasure in presenting the Silver Star (Army Award) to Lieutenant Albert Hobbs Clark (NSN: 072451), United States Navy, for gallantry in action and participation in the accomplishment of an unusual and hazardous mission for the War Department in enemy-controlled waters during January - March 1942, while a member of the crew of the U.S.S. TROUT (SS-202). Carrying a heavy load of anti-aircraft ammunition urgently needed by the beleaguered forces of General Douglas MacArthur in the Philippine Islands, the U.S.S. TROUT departed from Pearl Harbor, Territory of Hawaii, for Corregidor Island, Manila Bay, at 0900 on 12 January 1942, refueling at Midway Island on 16 January 1942. The U.S.S. TROUT proceeded on the surface until 21 January, traveling submerged thereafter during daylight hours. At 0230 on 27 January 1942, an unsuccessful night attack was made on a lighted vessel, resulting in the U.S.S. TROUT being chased by the vessel at such speed as to for the TROUT to dive in order to escape. On 3 February 1942, after dark, the TROUT made rendezvous off Corregidor with an escort motor torpedo boat. The TROUT then followed the escort at high speed through a winding passage in a mine field to South Dock, Corregidor Island, where she unloaded 3500 rounds of anti-aircraft artillery ammunition for the Army Forces defending Bataan Peninsula and Corregidor. Twenty tons of gold and silver, securities, diplomatic and United States mail and two additional torpedoes were loaded on the TROUT for the return voyage. The TROUT cleared the Corregidor dock at 0300, 4 February and bottomed in Manila Bay during daylight on 4 February. Surfacing that night, additional securities and mail were loaded before the TROUT departed from Manila Bay through the mine field. On the return trip one enemy merchant vessel and one patrol vessel were attacked and sunk. The U.S.S. TROUT arrived at Pearl Harbor on 3 March 1942, after 51 days at sea.

General Orders: Headquarters, Hawaiian Department, U.S. Army, General Orders No. 39 (March 17, 1942)
Action Date: January 12 - March 3, 1942
Service: Navy
Rank: Lieutenant
Division: U.S.S. Trout (SS-202)
Legion of Merit
From Hall of Valor:
The President of the United States of America takes pride in presenting the Legion of Merit (Posthumously) to Lieutenant Commander Albert Hobbs Clark (NSN: 072451), United States Navy, for exceptionally meritorious conduct in the performance of outstanding services to the Government of the United States while serving as Commanding Officer of a United States Navy submarine during a war patrol in the Pacific war area during World War II. Lieutenant Commander Clark executed a skillful and deadly attack which destroyed an enemy craft. He brought his ship and crew home without material damage or loss of life.

General Orders: Bureau of Naval Personnel Information Bulletin No. 332 (November 1944)
Action Date: World War II
Service: Navy
Rank: Lieutenant Commander
Company: Commanding Officer
Division: United States Submarine
From Hall of Valor:
SYNOPSIS: Lieutenant Commander Albert Hobbs Clark (NSN: 072451), United States Navy, was awarded a Gold Star in lieu of a Second Award of the Legion of Merit for exceptionally meritorious conduct in the performance of outstanding services to the Government of the United States during World War II.

General Orders: American Battle Monuments Commission
Action Date: World War II
Service: Navy
Rank: Lieutenant Commander
Bronze Star
Unable to find the citation for the Bronze Star he was awarded.
The "Register of Commissioned and Warrant Officers of the United States Navy and Marine Corps" was published annually from 1815 through at least the 1970s; it provided rank, command or station, and occasionally billet until the beginning of World War II when command/station was no longer included. Scanned copies were reviewed and data entered from the mid-1840s through 1922, when more-frequent Navy Directories were available.
The Navy Directory was a publication that provided information on the command, billet, and rank of every active and retired naval officer. Single editions have been found online from January 1915 and March 1918, and then from three to six editions per year from 1923 through 1940; the final edition is from April 1941.
The entries in both series of documents are sometimes cryptic and confusing. They are often inconsistent, even within an edition, with the name of commands; this is especially true for aviation squadrons in the 1920s and early 1930s.
Alumni listed at the same command may or may not have had significant interactions; they could have shared a stateroom or workspace, stood many hours of watch together… or, especially at the larger commands, they might not have known each other at all. The information provides the opportunity to draw connections that are otherwise invisible, though, and gives a fuller view of the professional experiences of these alumni in Memorial Hall.
January 1935
Ensign, USS Chester
---
Others at this command:
---
Others at or embarked at this command:
April 1935
Ensign, USS Chester
---
Others at this command:
---
Others at or embarked at this command:
October 1935
Ensign, USS Chester
---
Others at this command:
---
Others at or embarked at this command:
January 1936
Ensign, USS Southard
April 1936
Ensign, USS Southard
July 1936
Ensign, USS Southard
January 1937
Ensign, USS Southard
April 1937
Ensign, USS Southard
September 1937
Lieutenant (j.g.), under instruction, Submarine Base New London, Connecticut
---
Others at this command:
January 1938
Lieutenant (j.g.), USS S-25
July 1938
Lieutenant (j.g.), USS S-25
January 1939
Lieutenant (j.g.), USS S-25
October 1939
Lieutenant (j.g.), USS S-25
June 1940
Lieutenant (j.g.), USS S-25
November 1940
Lieutenant (j.g.), USS Trout
---
Others at this command:
April 1941
Lieutenant (j.g.), USS Trout
---
Others at this command:
Albert is one of 38 members of the Class of 1933 on Virtual Memorial Hall.
The "category" links below lead to lists of related Honorees; use them to explore further the service and sacrifice of the alumni in Memorial Hall.