JOHN F. WALLING, CDR, USN
From USNA Virtual Memorial Hall
Date of birth: February 2, 1912
Date of death: April 9, 1945
Age: 33
Lucky Bag
From the 1935 Lucky Bag:
Loss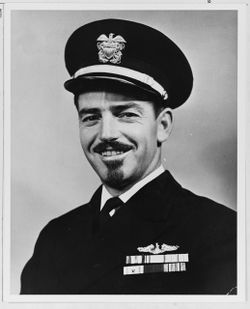 John was lost when USS Snook (SS 279) was sunk, sometime after April 9, 1945 while on her 9th war patrol. He had been commanding officer since December 5, 1944 and taken her on a previous patrol of 54 days.
His wife was listed as next of kin. He has a memory marker in Massachusetts.
Career
From Fleet Organization:
Duty Submarine Squadron Five 1 Jul 1939
Duty USS S-37 (SS-142) 1 Oct 1939
(Acting??) Executive Officer USS S-37 (SS-142) 1 Jul 1940
Engineering Officer USS S-37 (SS-142) 1 Nov 1940
Diving Officer USS Flying Fish (SS-229) 1942
Executive Officer USS Flying Fish (SS-229) Sep 1942
Captain USS S-48 (SS-159) 2 Jul 1943 - 1 Apr 1944
Captain USS Marlin (SS-205) 31 May 1944 - 31 Oct 1944
Captain USS Snook (SS-279) 5 Dec 1944 - Apr 1945
Lieutenant (j.g.) 6 Jun 1938
Lieutenant 14 Sep 1941
Lieutenant Commander (T) 1 May 1943
Commander (T) 1 Mar 1944
Silver Star
From Hall of Valor:
The President of the United States of America takes pleasure in presenting the Silver Star to Lieutenant John Franklin Walling (NSN: 0-75090), United States Navy, for conspicuous gallantry and intrepidity in action in the line of his profession as Diving Officer of the U.S.S. FLYING FISH (SS-229), during successful attacks against one enemy KONGO Class battleship and one enemy patrol vessel. One attack against a patrol vessel was followed by a severe enemy counter-attack during which the FLYING FISH was severely damaged. With a badly leaking after trim tank, with an up angle of eighteen degrees and with depth charges exploding very close aboard, it was only by his skill and calm courage that proper depth was maintained and the boat was capable of returning to port. His courage and skill were in keeping with the highest traditions of the United States Naval Service.

Action Date: World War II
Service: Navy
Rank: Lieutenant
Company: Diving Officer
Division: U.S.S. Flying Fish (SS-229)
Other
John's mother was the sponsor for USS Snook (SSN 592).
John is one of 56 members of the Class of 1935 on Virtual Memorial Hall.