JOHN A. BOLE, JR., LCDR, USN
From USNA Virtual Memorial Hall
Lucky Bag
From the 1928 Lucky Bag:
Loss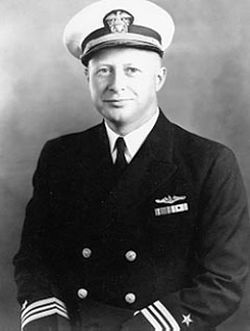 John was lost when USS Amberjack (SS 219) was sunk by a patrol craft on February 16, 1943 near Rabaul. He was the boat's commanding officer.
His wife was listed as next of kin.
From Fleet Organization:
Duty USS Shark (SS-174) 1 Jan 1939
Executive Officer USS Tarpon (SS-175) 30 Jun 1939 - 31 Dec 1939
Captain USS S-21 (SS-126) 30 Jun 1940 - 28 Feb 1942
Captain USS Amberjack (SS-219) 19 Jun 1942 - circa 16 Feb 1943
Lieutenant 1 Jul 1936
Lieutenant Commander 1 Jan 1942
Biography
From Wikipedia:
John Archibald Bole, Jr. (born in Elmhurst, New York, 28 March 1906, died near New Britain, Territory of New Guinea, 16 February 1943), was a United States Navy officer. He graduated from the United States Naval Academy in 1928. After serving in Tennessee (BB-43), he underwent submarine training. Bole subsequently served in a succession of submarines, taking command of S-21 in June 1940. Appointed Lieutenant Commander 2 January 1942, he became the commanding officer of Amberjack (SS-219) upon her commissioning in July 1942. After two offensive patrols in the Solomon Islands, the submarine departed Brisbane, Australia 26 January 1943 to prowl the shipping lanes around Rabaul. She sank a freighter 4 February and was last heard from 10 days later. Japanese records indicate Amberjack was probably sunk in an attack 16 February 1943 at about 5°05′S 152°37′E. Lt. Comdr. Bole was awarded the Navy Cross for his outstanding performance as her commander.
From Hall of Valor:
The President of the United States of America takes pride in presenting the Navy Cross (Posthumously) to Lieutenant Commander John Archibald Bole, Jr. (NSN: 0-62013), United States Navy, for extraordinary heroism in the line of his profession as Commanding Officer of the U.S.S. AMBERJACK (SS-219), on the FIRST War Patrol of that submarine during the period 3 September 1942 to 30 October 1942, in enemy controlled waters. Lieutenant Commander Bole inflicted heavy losses to valuable enemy shipping. By his extraordinary heroism and intrepid and aggressive conduct of the patrol, three enemy vessels totaling 28,000 tons were sunk and two other enemy vessels totaling approximately 17,000 tons were damaged. On 7 October 1942, after damaging an enemy cargo ship, he came to the surface and conducted a determined pursuit for five hours, eventually destroying it in spite of the fact that the enemy was armed with a deck gun. On 10 October 1942, with great gallantry in the face of the enemy he proceeded to Kavieng Harbor and sank the 19,000 tone whale rendering ship Tonan Maru and damaged a 7,000 ton freighter, fully recognizing the dangers involved, but also realizing that the Tonan Maru had been used by the enemy for ferrying planes and was a very valuable target. On 19 September 1942 and again on 10 October 1942, his ship was strenuously depth charged by the enemy, but by the use of cool and skillful evasive tactics Lieutenant Commander Bole was able to escape with only minor damage to the AMBERJACK. Such actions on his part were in keeping with the highest traditions of the Naval Service.

Service: Navy
Division: U.S.S. Amberjack (SS-219)
Rank: Lieutenant Commander
Namesake
USS John A. Bole (DD 755) was named for John; the ship was sponsored by his widow.
John is one of 17 members of the Class of 1928 on Virtual Memorial Hall.