JOHN D. HARPER, JR., LCDR, USN
From USNA Virtual Memorial Hall
Birthdate & Date of Loss
| | |
| --- | --- |
| Date of birth: | August 5, 1916 |
| Date of death: | October 24, 1944 |
| Age: | 28 |
Lucky Bag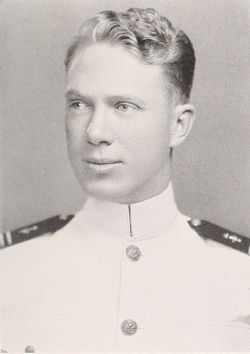 From the 1939 Lucky Bag:
JOHN DOTT HARPER, JR.

TRINIDAD, COLORADO

Johnnie, Harp

Although John had to abandon the rod and reel to come to the Academy he still loves to reminisce on the superb trout fishing of his native state. This and tennis occupy his leisure moments; that is, when he isn't dragging or writing letters to his O. A. O. In his work he has the praiseworthy habit of getting the last .01 or good out of the time allotted — if you've ever seen the sweat on his brow at the end of a Nav P-work, you can appreciate the extent of that eagerness. Happy is always to be remembered as the midshipman who openly admitted enjoying the Inaugural P-rade. His excess of optimism has carried him and his friends through many a gloomy Sunday.

Tennis 4, 3; Battalion Tennis 2, 1; Wrestling 4; Battalion Wrestling 3, 2; Musical Club Shows 2, 1; Reception Committee 2, 1; Glee Club 4, 3, 2, 1; Hop Committee 1; Radio Club 1; 1 Stripe.
Loss
John was lost when USS Shark (SS 314) was sunk by a Japanese destroyer off the coast of Formosa on October 24, 1944.
His wife was listed as next of kin; he was also survived by a son.
Silver Star
From Hall of Valor:
The President of the United States of America takes pleasure in presenting the Silver Star to Lieutenant John Dott Harper, Jr. (NSN: 0-82437), United States Navy, for conspicuous gallantry and intrepidity in action while serving aboard the U.S.S. DRUM (SS-228) during World War II. During four extensive War Patrols in enemy waters and despite determined enemy opposition he courageously and skillfully performed his duties as First Lieutenant and Damage Control Officer of a United States Submarine and thus assisted materially in the sinking of an important amount of Japanese shipping. His excellent judgment and coolness under fire contributed in a large measure to the success of the ship. His conduct throughout was in keeping with the highest traditions of the United States Naval Service.

General Orders: Commander in Chief Pacific: Serial 33
Action Date: World War II
Service: Navy
Rank: Lieutenant
Company: First Lieutenant
Division: U.S.S. Drum (SS-228)
From Hall of Valor:
The President of the United States of America takes pride in presenting a Gold Star in lieu of a Second Award of the Silver Star (Posthumously) to Lieutenant Commander John Dott Harper, Jr. (NSN: 0-82437), United States Navy, for conspicuous gallantry and intrepidity in action in the performance of his duties as Assistant Approach Officer in the U.S.S. SHARK (SS-314), during the FIRST War Patrol of that Submarine from 16 May 1944 to 17 June 1944. His ability to furnish his Commanding Officer with a continued flow of valuable information contributed directly to the sinking of four enemy ships totaling 32,200 tons and damaging an additional enemy ship of 5,600 tons. His efficiency and coolness during severe enemy countermeasures greatly assisted his ship in conducting successful evasive tactics. His conduct throughout was an inspiration to the officers and men in his ship and was in keeping with the highest traditions of the United States Naval Service.

General Orders: Commander in Chief Pacific: Serial 06666 (November 17, 1944)
Action Date: May 16 - June 17, 1944
Service: Navy
Rank: Lieutenant Commander
Company: Assistant Approach Officer
Division: U.S.S. Shark (SS-314)