FRANK BLAHA, LCDR, USN
From USNA Virtual Memorial Hall
Birthdate & Date of Loss
| | |
| --- | --- |
| Date of birth: | May 27, 1917 |
| Date of death: | October 17, 1944 |
| Age: | 27 |
Lucky Bag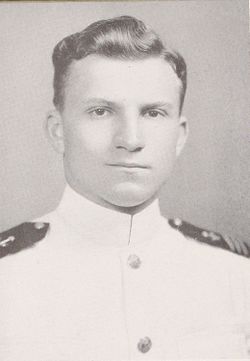 From the 1939 Lucky Bag:
FRANK BLAHA

DILLONVILLE, OHIO

Ha Ha

In July, 1935, Frankie hopefully set out from the hills of Dillonville to seek fame in the service, and there are indications that the Navy will appreciate that day. It didn't take him long to get into the front ranks of that eventful plebe summer conglomeration, and to stay one of 39's most prominent members. He is just a swell lad with the patience to react to the antagonisms of close-ordered life with cheerfulness; with the working ability to keep on until a job is well executed; with the physical and mental abilities to be an above average athlete and student; and with the overall perspective to unite each day's lessons into a consolidated base upon which may be built a good career.

Football 4, 3, 2, 1, N.A.; Track 4, 3, 2, 1, N*; 1 Stripe.
Loss
Frank was lost when USS Escolar (SS 294) was sunk, probably by a mine, on or about October 17, 1944. He was the executive officer.
He has a memory marker in Arlington National Cemetery; his wife was listed as next of kin.
Silver Star
From Hall of Valor:
The President of the United States of America takes pleasure in presenting the Silver Star to Lieutenant Frank Blaha (NSN: 0-82335), United States Navy, for conspicuous gallantry and intrepidity in action as Gunnery Officer of the U.S.S. GREENLING (SS-213), during THREE War Patrols of that Submarine in enemy controlled waters during World War II. His calm determination and great ability as Assistant Approach Officer contributed directly to the success of his submarine in the destruction of 61,800 tons of enemy shipping. While under gunfire from enemy surface craft, he courageously and coolly directed the gunfire of his ship from an exposed position, thereby causing damage to the enemy. His performance of duty was in keeping with the highest traditions of the United States Naval Service.

General Orders: Commander in Chief Pacific: Serial 29 (February 1, 1943)
Action Date: World War II
Service: Navy
Rank: Lieutenant
Company: Gunnery Officer
Division: U.S.S. Greenling (SS-213)