IRVIN A. R. THOMPSON, ENS, USN
From USNA Virtual Memorial Hall
Birthdate & Date of Loss
| | |
| --- | --- |
| Date of birth: | October 21, 1917 |
| Date of death: | December 7, 1941 |
| Age: | 24 |
Lucky Bag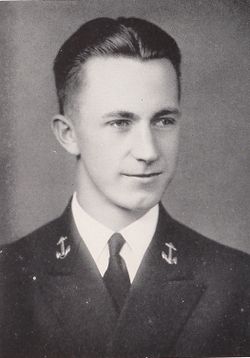 From the 1940 Lucky Bag:
IRVIN ANDREW RUBIN THOMPSON

Ketchikan, Alaska

Although he's forever boasting of the advantages of rugged life in the salmon country, this tall, good-looking "snake" was born in New Jersey. That probably explains why he's forever bitterly disclaiming Maryland winters and seeking to rig a radiator around his bunk. His practical, varied sailing experience has been a ready help to those of us who are not so salty. Academics, excluding a temporary lull over which he had no control (another drag), have been merely something between ketch trips and a game of basketball. An amiable disposition and unusual common sense should find Igloo a rich future. —Skoal!
Loss
"Igloo" was lost in USS Oklahoma (BB 37) during the attack on Pearl Harbor on December 7, 1941.
His father was listed as next of kin.
News & Remembrance
From Stories in the News (Ketchikan, Alaska) on December 18, 2008:
Irvin Thompson Reburied In California
Ketchikan War Hero's Remains Were Identified After Over 60 Years
By DAVE KIFFER

Ketchikan, Alaska - A Ketchikan man, who was Alaska's first casualty in World War II, is a little closer to home after being reburied last month in a veteran's cemetery in California.

Irvin Andrew Rubin Thompson was an Ensign on the USS Oklahoma when it was sunk during the Japanese attack on Pearl Harbor on Dec. 7, 1941.

The Oklahoma was one of five battleships seriously damaged or destroyed in the attack. Most of the damage to the Oklahoma was from five torpedo hits that caused the ship to capsize with the bottom of the hull protruding from the water. Several dozen crew members were rescued by crews cutting through the hull more than 30 hours after the attack ­ a story told in the book "Escape From Pearl Harbor" by Oklahoma crewman Steven Bower Young ­ but Thompson was not among the fortunate ones.

The Navy managed to "right" the ship a little over three months after the attack and many remains were found within the hull but nearly all were unidentifiable with the methods of the time.

The 429 casualties on the Oklahoma were second only to the 1,177 who died on the USS Arizona in the attack. The Oklahoma was put in dry dock until 1944 when it was decided it was not "repairable" and sold for scrap.

It was being towed to San Francisco on May 17, 1947 when it sank in a storm 540 miles east of Pearl Harbor.

For more than 60 years, Thompson's remains remained unidentified, until a modern researcher helped identify them. Eighty-seven year old Ray Emory was a survivor of the Pearl Harbor attack and has been working to decades to identify Pearl Harbor's "unknowns."

After the attack, only 36 of the 429 sailors and marines were positively identified. The rest were put into mass graves at the National Cemetery of the Pacific at Punchbowl near Honolulu.

"An independent researcher (Emory) had concluded, using archives and documents available to the public that he had identified a serviceman in one of the graves marked unknown," Defense Department official Larry Greer told the New Jersey Star-Ledger on September 5, 2008. "We exhumed the coffin and actually found the remains of 31 individuals, identifying three of them."

One of the individuals identified was Irvin AR Thompson. Greer said the Defense Department identified Thompson as being from Hudson County, New Jersey because that was the address listed for him after he graduated from the Naval Academy in 1940.

But while Thompson was born in Weehawken, New Jersey in 1917, he had spent most of his life in Ketchikan.

The Ketchikan Chronicle reported in on Dec. 16, 1941, that Thompson's family had moved to Ketchikan in 1922 and that he had graduated from Ketchikan High School in 1935. He then spent a year at the University of Washington in Seattle before being appointed to the Naval Academy in Annapolis, Maryland.

Merta (Smith) Kiffer lived across First Avenue from the Thompson family. She says she remembers Irvin who was tall and dark haired and three years ahead of her at Kayhi.

Andrew Thompson worked for the city highway department. Kiffer also said that Mrs. Thompson was related the Schlais family.

Thompson's father was in Seattle with an unspecified illness, according to the Ketchikan Chronicle. Mrs. Thompson and the rest of the family joined him there in early 1942.

Kiffer said that Mr. Thompson died shortly afterwards and the Thompson family never returned to Ketchikan.

In addition to Thompson, the remains of Fireman First Class Lawrence Boxrucker of Dorchester, Wisconsin and Ensign Eldon Wyman of Portland, Oregon were also identified and were reburied in Wisconsin and Oregon.

The Department of Defense determined that Thompson's closest living relative was a cousin living in California and reburied his remains November 14 at the Sacramento National Cemetery in Dixon, California.

Greer said the cousin requested anonymity.