CARL A. WEEDEN, ENS, USN
From USNA Virtual Memorial Hall
Lucky Bag
From the 1940 Lucky Bag:
Remembrance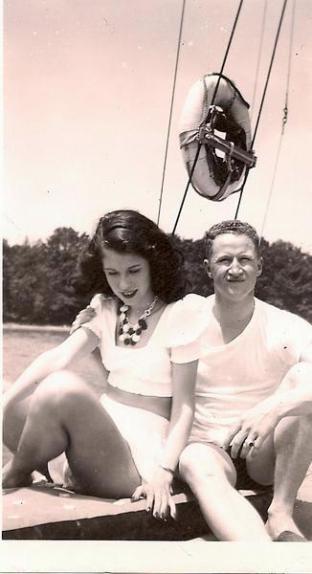 From the Denver Post on December 4, 2008:
Bernadine Weeden stood in front of the built-in oak china closet in the dining room of her home at 417 Pine St. in Trinidad on Sunday, Dec. 7, 1941.

The aroma of pot roast floated from the kitchen as Bernadine prepared to set the table for the noon meal. She admired her Haviland china, the set that was last used for Christmas nearly a year before, when her brother Bud was home from the war. He had even brought his girlfriend, Raye, and documented the holiday with his movie camera. It was a happy Christmas, indeed. But her smile faded as she thought of the words he wrote in a letter just a month before.

November 5, 1941

Dear Bernadine,
I am terribly sorry to say but think you all have to forget anything about me coming home for this Xmas. For from the way things look now, we won't go back to the states for a long time to come.
Japan seems to be getting on her high horse again, so there won't be any ships leaving the vicinity of the Hawaiian Islands. There is nothing that I would love anymore than that, but it's just one of those things. If things had broken right we would have been in the states now, and you and I would have been probably dancing at the Grand instead of me sitting in Pearl Harbor tonight.
Love, Bud

Bernadine was still setting the table when the doorbell rang.

It was her neighbor, her face full of fear, clutching a gray shawl around her shoulders. Bernadine greeted her with a question. "Mrs. Fuller?"

"Bernadine, you need to turn on your radio. Hawaii is under attack," she said, and abruptly turned and walked back down the porch steps. Bernadine rushed back inside and turned on the radio as her grandmother, Alice Weeden, called out from the kitchen, "Bernadine, who was at the door?"

"Mrs. Fuller," she called back, as the shaken voice of the radio announcer began to fill the room.

Bernadine's younger sister, Mossie, sat on the sofa curled up in an afghan, her red curly hair framing eyes close to tears. Grandmother Alice came in from the kitchen, leaving the food in pots on the stove to go cold.

The three of them stayed there for hours, in front of that brown wooden box that continually coughed out impending doom.

Big brother Bud was in Hawaii, at Pearl Harbor.

Carl Alfred Weeden, later nicknamed Bud, was born on April 14, 1916, in Trinidad. He was the first-born of Carl and Margaret Weeden. In the coming years, he would become big brother to three sisters: Bernadine, Nona and Mossie. When he was six months old, hundreds of miles away in the New York Navy Yard, a large gray lady nicknamed "Queen of the Battle Fleet" was commissioned into service and joined the Atlantic Navy Battle Fleet: the USS Arizona.

Little Carl was learning to sit up as the Arizona sailed off for training.

Bud grew into a handsome young man with a dream. When he graduated from Trinidad High School in the spring of 1934, he had a new nickname that suited his goals: "Admiral."

On June 22, 1936, he was appointed a midshipman at the U.S. Naval Academy, and graduated in June 1940. It was a big event for the family. Grandmother Weeden, Bernadine and Mossie, along with Bud's father, Carl, drove east for the big event. (His mother, Margaret, had died from leukemia back in 1933.)

Ensign Weeden reported for duty on the USS Arizona on June 9, 1940. Writing in his stateroom on Dec. 4, 1941, Bud wrote his last letter:

Dear Bernadine,

Tell Mossie and grandma there is Xmas wrapping beneath the shipping wrapping. I didn't get time so Bernadine you didn't get Xmas wrapping so you will have to wrap it up. Take off the shipping wrap, when you come to the white box. Don't open it up, you will have to wrap it.
I hope all of you will like what I got Bernadine because you have always been so very, very sweet and faithful, I got you something special. I'm sure it will last you a long time.
Love, Bud.

On the morning of Dec. 7, eyewitnesses said it was like a swarm of locusts that buzzed above and around the helpless American fleet anchored in Pearl Harbor. The Japanese plans were on a mission to destroy everything in their path, totally and completely, at whatever the cost.

There were no cellphones. No calls to loved ones were made. So whatever happened to Ensign Weeden that overcast Sunday morning will never be known.

He rests at the bottom of Pearl Harbor with his ship, the USS Arizona, and too many of his mates.

Some days later, Carl Marshal Weeden received confirmation that his son was lost that day. Bud's 3-year-old half brother, Elmer Ray, would never get to know Carl's eldest child.

In Trinidad, grief hung around like an unwelcome guest. The gifts that Bud sent to his beloved sisters were cruel reminders of his fate. Bernadine opened her package to discover a camera. Mossie received a bathrobe — which she could never bring herself to use. It remained in a closet, a memorial to the past.

Many memories of the Weeden family have been lost. But those reels of film Bud recorded in 1940, including the Christmas celebration, have survived. There is also footage of Bud and Raye at a little family-owned cabin in the mountains above Trinidad, ice skating on a pond, chopping down Christmas trees and shooting off his pistol. Bud filmed Raye opening her Christmas present, a wristwatch. Her forced smile hid her tears; she had been hoping for a diamond.

On Oct. 27, 1943, the Weeden clan had one more official duty to perform for their lost sailor, and traveled to a shipyard in Orange, Texas, for the dedication of the USS Weeden, named in honor of Ensign Carl Alfred Weeden. Grandmother Alice Weeden christened the ship with a bottle of champagne decorated with colorful ribbons.

Ensign Weeden was also awarded the Purple Heart posthumously. Kathleen Wood is the niece of Carl "Bud" Weeden. She is retired and lives in Bailey.
Loss
Bud was lost in USS Arizona (BB 39) during the attack on Pearl Harbor on December 7, 1941. His father was listed as next of kin.
Namesake
USS Weeden (DE 797) was named for Bud; the ship was sponsored by his grandmother.
Other
Two of Bud's videos are posted at http://www.scottfreundracing.com/personalitems.htm.
Carl is one of 91 members of the Class of 1940 on Virtual Memorial Hall.