LEONARD B. SOUTHERLAND, RADM, USN
From USNA Virtual Memorial Hall
Lucky Bag
From the 1927 Lucky Bag:
Loss
From Find A Grave:
Rear Admiral Southerland, Commander, Carrier Division Seven (CCD-7), died in the crash of a helicopter flying from the aircraft carrier USS LEXINGTON (CVA-16) to Okinawa. Killed also, along with the pilot LTJG J. P. Loomis, USNR, was Commander J. C. Coulthard, USN, CCD-7 staff officer.
He earned his wings as naval aviator #3522 in 1929.
He was survived by his wife and son, Leonard Jr.
Wartime Service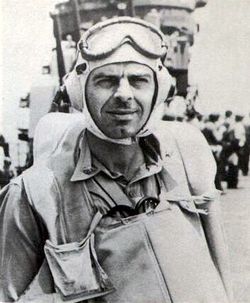 From USS Lexington (CV 16) World War II Cruise Book 1943-46 - Tarawa To Tokyo:
Commander Leonard B. Southerland stepped into the number 2 spot on 22 July 1944 after an already long tour of duty aboard the Lex as Commander of Air Group 16 and Air Officer. A loved and respected figure, his intimate knowledge of the officers, men, and traditions of the Lex made him a splendid choice. "Shiek" Southerland is a tall, gangling man who is easily mistaken for Abraham Lincoln. His peculiar talent is being a terrific guy to work for and when the burns he received on November 5 from the Kamikaze hit made it necessary for him to leave us for hospitalization it was a great disappointment to all. Commander Southerland is a graduate of the Naval Academy Class of 1926 [sic] and the winner of the Legion of Merit for his grand work as Air Group Commander aboard the Lex.
Operation REDWING
Leonard was chief of staff for the task force that conducted Operation REDWING, which was a series of 17 nuclear test detonations from May to July 1956.
Gallery
All photos below are from the San Diego Air and Space Museum Archives. There are no captions provided.
Legion of Merit
Note this would be the synopsis of his second Legion of Merit; the first was earned while serving as Air Group Commander aboard Lexington during the war.
From Hall of Valor:
(Citation Needed) - SYNOPSIS: Captain Leonard B. Southerland, United States Navy, was awarded the Legion of Merit with Combat "V" for exceptionally meritorious conduct in the performance of outstanding services to the Government of the United States as Chief of Staff to Commander Carrier Division ONE and Commander Task Force 77, from 24 July 1952 to 23 July 1953. (Captain Southerland is authorized to wear the Combat "V".)

General Orders: All Hands (May 1954)
Service: Navy
Rank: Captain
Distinguished Flying Cross
From Hall of Valor:
(Citation Needed) - SYNOPSIS: Commander Leonard B. Southerland, United States Navy, was awarded the Distinguished Flying Cross for extraordinary achievement while participating in aerial flight as Commander of an air group over Tarawa and Wake, 18 September and 5 October 1943.

General Orders: Bureau of Naval Personnel Information Bulletin No. 340 (July 1945)
Service: Navy
Rank: Commander
Bronze Star
Unable to find a citation for the Bronze Star listed on his headstone.
Memorial Hall Error
Leonard is not listed in Memorial Hall with his classmates.
Leonard is one of 43 members of the Class of 1927 on Virtual Memorial Hall.