STEPHEN B. COOKE, LCDR, USN
From USNA Virtual Memorial Hall
Lucky Bag
From the 1921 Lucky Bag:
Loss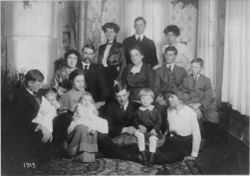 From The Brownsville Herald on January 6, 1941:
RESCUE PLANE KILLS ELEVEN

Fog Blamed As Cause Of Crash SAN DIEGO, Calif. --(AP)-- Civil and naval officials, poking through the scattered wreckage of a $120,000 navy transport plane, asserted Monday that had the big ship been flying 20 feet higher it would have cleared the rugged Mother Grundy range and reached its destination only 20 miles away with all 11 occupants safe.

The navy arranged for an official investigation of the crash that killed everybody aboard, including four who had escaped death only last Thursday in a Texas bomber mishap. Civilian aviation observers generally blamed weather conditions. A low ceiling and dense fog made flying conditions hazardous in the area, some 35 miles southeast of here, and reports of neighboring ranchers said the pilot might have gotten off his radio beam.

Plane Gunned
Residents of the Simpson ranch two miles from White Mountain, the crash scene, said they heard a plane being "gunned" to gain altitude a few moments before they heard an explosion, and this brought the observation that a pilot off his beam, believing him self over San Diego because of a zone of silence, might have started down, realized his position and attempted to climb out of danger.

The craft struck just 20 feet below the ridge, exploded and burned. Wreckage was hurled over the top of the 3000-foot granite summit and scattered over a half-mile area. The big plane, en route to the naval air station here, carried three members of a board of inquiry appointed to investigate the Texas accident, and the four survivors of that previous mishap. The four had parachuted to safety when their bomber, being ferried from here to Pensacola, Fla., by way of corpus Christi, Tex., encountered a severe storm. A fifth crew member "bailed out" but was killed when his 'chute failed to open. The pilot and co-pilot, who risked their lives to ride out the storm and land the ship on a small pond, proved ultimately to be the only survivors of the seven aboard the bomber.

Dead The dead were Lt. Comdr. Joseph Henry Gowan, 54, Head Hill, Ark., pilot David Everett Ferguson, 33, Neponset, W. Va., co-pilot; Lt. Cmdr. Stephen Bland Cooke, 42, Harrison, Ark., Lieut. Victor S. Gaulin, 34, Lowell, Mass., and Lieut. James Cyril Flemming, 36, Reading, Pa., members of the board of inquiry; Frank Recke, Jr.. 30, National City, Calif,, L. J. Hughes, 30, Grand Rapids, Mich.. H. B. Neff, 34, San Diego, and A. M. Parry, 31, Los Angeles, survivors of the Texas mishap; and Marvin Magee, 32, Long Branch, N, J,, and Frank Richard Naylor, 25, Dayton, Ky., crew members of the wrecked transport plane.
He was the commanding officer of Patrol Squadron (VP) 13, Norfolk, VA; he assumed that command on July 5, 1939. He had been selected "that day" to be commander and head of a board of inquiry of the earlier crash.
Stephen was survived by his wife, Dorothea, his son, Stephen Jr., his father, a sister, and two brothers, one of whom retired an Admiral.
Related Articles
Victor Gaulin '30 was also lost in this crash.
Stephen is one of 32 members of the Class of 1921 on Virtual Memorial Hall.