KEENE G. HAMMOND, LCDR, USN
From USNA Virtual Memorial Hall
Lucky Bag
From the 1938 Lucky Bag:
Wartime Service and Loss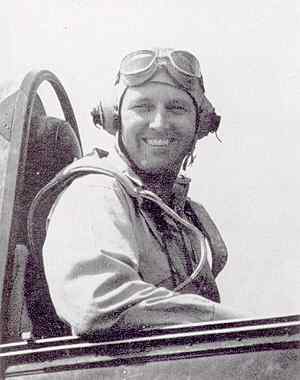 From Fighting Squadron (VF) 4:
Dedicated to Lieutenant Commander Keene G. Hammond, our Commanding Officer from 14 March 1944 to 6 January 1945, an outstanding pilot, a perfect gentleman, a true friend to all his men, and a great hero who gave his all for his country. He was taken from us in the thick of fight at 1300 hours on 6 January 1945.

The Atlantic Theater Lt Cdr Keene G. "Kagey" Hammond was one of the original pilots assigned to Fighting 4 when it was formed on the USS Ranger in December 1941 following the Japanese attack on Pearl Harbor. Fighting Four (VF-4), flying Grumman F4F Wildcats, was the fighter squadron of Air Group 4. Hammond was actively involved in all AG4 operations in the Atlantic.

During WWII, flight accidents were one of the major risks to carrier airmen. Prior to seeing combat in OPERATION TORCH, Hammond survived two crash landings.

On March 18, 1942, Hammond was launched with other F4F fighters from the Ranger for simulated attacks on ships. The group was scheduled to land at Quonset Point, R. I., but the weather turned bad with zero visibility. Some planes did not make their destination. Hammond "flew as far as New Paltz, New York where he crash landed wheels-up, his F4F taking minor damage".
There is more details on this crash landing mentioned above at New England Aviation History:
Lt. (Jg.) Charles V. August, Lt. Keene G. Hammond, and Lt. (Jg.) Dee Jones, had managed to stay together, but came to the realization that they were lost. With no visual reference points, they had inadvertently veered off course and were now heading over western Massachusetts towards upstate New York.

At about ten miles west of Poughkeepsie, N.Y., they found themselves running low on fuel over the small town of New Paltz, and began circling for a place to land. With no airport in sight, the pilots were forced to try for a rough landing in an open field. Lt. Hammond came in first and made a "pancake" landing with his wheels up causing minor damage to the plane, but was uninjured.
From Fighting Squadron (VF) 4:
In a routine training hop on September 16, 1942, Hammond was making an approach for landing on the Ranger "in heavy seas and a pitching deck. He was given a fast signal by the LSO (Landing Signal Officer). He throttled back, pulling back on the stick to raise the F4F nose. The Wildcat appeared to stall and the plane hit the deck hard sustaining major damage."

OPERATION TORCH Hammond led a 4-plane section of Wildcats from the Ranger in support of the Allied landings in North Africa known as OPERATION TORCH. These air attacks against the Vichy French (who were fighting with the Germans) took place November 8-12, 1942.

On November 8, 1942, Hammond led a morning flight of Wildcats on Fedala, 15 miles north of Casablanca. In the engagement he ran low on fuel and had to land on the jeep carrier USS Sawanee. His plane was refueled, rearmed, and launched to fly CAP (Carrier Air Patrol) over the fleet. After this assignment, he returned to the Ranger and later that morning lead a second flight to destroy enemy planes that were attacking Allied troops at Fedala. In the process he strafed an enemy destroyer. That afternoon, he led a third flight.

Hammond was involved in two morning attacks and one afternoon flight on November 9. On November 10, he led a 4-plane section of Wildcats to strafe targets in support of the landings near Casablanca.

The Vichy French capitulated November 11, 1942. OPERATION TORCH cost the lives of 10 airmen from the Ranger Task Force. Four airmen who were taken prisoners were released to rejoin their squadrons following the Vichy surrender.

Fighting Four pilots, including Hammond, had clearly demonstrated their combat capability.

OPERATION LEADER For the next several months the Ranger was primarily involved in convoy escort duty and anti-sub patrol. The next major combat action was OPERATION LEADER, a strike on German shipping along the coast of Norway. Details of OPERATION LEADER, which took place on October 4, 1943, are posted elsewhere on this web site.

During OPERATION LEADER, Hammond was one of the six Fighting Four pilots assigned to escort the VT-4 torpedo planes, which made up the "Southern Attack Group". The strike was a complete surprise and the Germans failed to send out aircraft to intercept the attacking planes. The VF-4 fighters, flying F4F Wildcats, made strafing runs on the German ships before the torpedo planes dropped their bombs. The combat Action Report states:

"Spanky Carter, Will Taylor, Kagey Hammond, and Bob Cronin strafed the 4,300-ton troop transport Skramstad. Joe Ruddy scored a direct hit on her, as well, as did Lee Hamrick."

After OPERATION LEADER, the Ranger with its Air Group continued to operate in the Atlantic. In April 1944, VF-4 was enlarged to 36 aircraft and its F4F Wildcat's were replaced with Grumman F6F Hellcats. Hammond was now the Skipper on a well-trained and night-qualified group of fighter pilots. Lt Clifford White, VF-4, stated it this way:

"On March 14, 1944, Lt Cdr K. G. Hammond became our skipper. 'Remember now,' we warned one another, 'It isn't K. G. anymore, it's Captain Hammond. And it was really somewhat difficult to get accustomed to the change. The new Captain stepped gracefully into the driver's seat, however, and had us in such control that he need only a snap of the finger for a whip. He brought us luck, too, for shortly afterward we were all granted some leave, were deattached from the USS Ranger, and exchanged our effete Wildcats for some spanking new Hellcats. VF-4 was finally coming into its own. The fighting war was just over the horizon."

The Pacific Theater of War Air Group 4 moved to the West Coast in June 1944, was loaded aboard the USS Barnes, and shipped to Hawaii. After a short operational training period in Hawaii, the group was shipped to Saipan and assigned to the USS Bunker Hill for strikes on the Philippines. Following are some quotes from the Action Reports:

Strike Able. 11 Nov. 1944. The target was a Japanese convoy entering Ormoc Bay. Lt Cdr K. G. Hammond, VF-4, was assigned the lead for both fighter cover and attack coordination. "Fighting Four made the first strafing and bombing runs with fair success."

Cavite, Luzon. 13 Nov. "Lt Cdr [Hammond] led 16 planes in an early morning fighter sweep over Clark Field on Luzon." Hammond's sweep intercepted five Tojos near Clark Field, of which Harris downed one and Gordon another.

On November 18, 1944, Air Group 4 was transferred from the Bunker Hill to the USS Essex. Some Action Reports aboard the Essex follow:

25 Nov. Morning strike on shipping at Santa Cruz. Essex takes a Kamikaze during the noon hour while K. G. is ready for takeoff for a strike on San Fernando Harbor. "Our fighters shot down at least 15 Japanese planes on this day."

14-15 Dec. Fighter sweeps and strike cover in support of the Mindoro Occupation. "Without any rest, the VF-4 skipper, K. G. Hammond was ordered to lead his second strike of the day to investigate the report of an enemy convoy off the coast of Luzon. During the bombing and rocket attacks on the convoy, Lt Cdr Hammond observed a Jake about 2000 yards north of the convoy. As he pulled out of his dive he headed for the enemy plane. Attacked from o'clock above, and fired into the engine. As a result, VF-4 reported that 'The Captain shot down a Jake for the first kill on 14 December.'"

3 January 1945: Fighter Sweeps -- Formosa and Okinawa. "The first VF-4 sweep was launched at dawn with the skipper, K. G. Hammond as leader. Because of the extreme weather conditions, Hammond's flight was forced to stay close to the deck for most of the 340-mile outward leg. Upon reaching Okinawa, Hammond split the flight into two parts and conducted simultaneous attacks on Naha and Yontan Airfields. They burned at least five aircraft at Naha and seriously damaged two SDs off shore. Anti-aircraft fire was 'intense.'"

4 Jan. "The major strike of the day consisted of 19 Hellcats led by Lt Cdr K. G. Hammond. Five planes had to return due to mechanical failures. The remaining planes made runs on Yontan and Naha airfields. In addition the Hellcats strafed two FWDs entering Nago Bay and seriously damaged two trawlers outside Naha."

6 Jan. "A 12-plane fighter sweep, launched from the Essex, arrived near Laoag shortly after the departure of Torpedo Four. This group of Hellcats was under the leadership of Lt Cdr K. G. Hammond, VF-4 Skipper. With their rockets, bombs, and0-calibers they claimed four vessels destroyed and three seriously damaged. But this was a sad day for 'The Red Rippers' as the debriefing report shows:"

"During the attack intense light and medium AA fire was experienced from batteries along the shore. In the second attack Lt Cdr Hammond's plane was mortally damaged by heavy AA in the engine and empennage. Lt Laird's plane received a 20-mm shell aft of the cockpit which did considerable damage."

"As the flight rendezvoused out to east from Darrena Point Lt Cdr Hammond reported that his oil pressure was decreasing rapidly and that he was going to try to make the Lingayen Gulf area. As he made his way south, the planes in the flight joined up on him. When, about 8 miles southwest of Vigan, Lt Cdr Hammond turned his plane into the wind for a water landing, his engine froze."

"At the moment of impact there was a flash believed to have been caused by the explosion of the belly tank and the plane skipped and cartwheeled. The plane sank in a matter of a few seconds and the only trace on the surface was an oil slick and part of the belly tank. The aircraft circled the area for 20 minutes but nothing was observed on the surface of the area."
His wife was listed as next of kin. He has a memory marker in South Carolina.
Career
From naval aviation historian Richard Leonard via email on February 9, 2018:
Date of rank LTJG from 1 Jul 1941 USN Register, 6/2/1941
NAS Pensacola attached for HTA flight training, 7/24/1941
NAS Pensacola designated NA # 10137, 12/16/1941
Date of rank LT from 1 Jul 1942 USN Register, 6/15/1942
VF-41 USS Ranger (CV-4) SS, 11/8/1942
VF-4 (XO) USS Ranger (CV-4), 10/4/1943
Date of rank LCDR from 1 Jul 1944 USN Register, 3/15/1944
VF-4 (CO) NAS Quonset Point, 3/15/1944
VF-4 (CO) USS Bunker Hill (CV-17) DFC, 11/14/1944
VF-4 (CO) USS Essex (CV-9) NX PH, 11/25/1944
VF-4 (CO) USS Essex (CV-9) PH KIA BNR, 1/6/1945
Silver Star
From Hall of Valor:
The President of the United States of America takes pleasure in presenting the Silver Star to Lieutenant Keene Gwynn Hammond (NSN: 0-81189), United States Navy, for conspicuous gallantry and intrepidity as Section of Leader in Fighting Squadron FORTY-ONE (VF-41), attached to the U.S.S. RANGER (CV-4), during the occupation of French Morocco, 8 - 11 November 1942. Participating in numerous flight missions against the enemy, Lieutenant Hammond pressed home his attacks with bold determination and utter disregard for his own personal safety. Over Casablanca harbor he led a section of sixteen planes in repeated strafing raids on hostile cruisers and destroyers headed toward our transports, thereby diverting an imminent attack on our landing forces. Later, in the face of tremendous anti-aircraft fire, he led a section of dive bombers which destroyed five enemy planes on the ground at the Cazes airfield. In five other flights he struck at hostile shore batteries, submarines, and motorized units, and engaged in combat air patrol over our carrier formation. His superb flying skill and conscientious devotion to duty were in keeping with the highest traditions of the United States Naval Service.

General Orders: Commander in Chief Atlantic: Serial 00189 (March 24, 1943)
Action Date: November 8 - 11, 1942
Service: Navy
Rank: Lieutenant
Company: Fighting Squadron 41 (VF-41)
Division: U.S.S. Ranger (CV-4)
Distinguished Flying Cross
From Hall of Valor:
SYNOPSIS: Lieutenant Commander Keene Gwynn Hammond (NSN: 0-81189), United States Navy, was awarded the Distinguished Flying Cross for extraordinary achievement while participating in aerial flight as Commanding Officer of a carrier-based Fighting Squadron in the Philippine Islands area 11 to 14 November 1944 and on 25 November 1944.

General Orders: Bureau of Naval Personnel Information Bulletin No. 345 (December 1945)
Action Date: November 11 - 25, 1944
Service: Navy
Rank: Lieutenant Commander
Company: Fighting Squadron
From Hall of Valor:
SYNOPSIS: Lieutenant Commander Keene Gwynn Hammond (NSN: 0-81189), United States Navy, was awarded a Gold Star in lieu of a Second Award of the Distinguished Flying Cross (Posthumously) for extraordinary achievement while participating in aerial flight during World War II.

General Orders: American Battle Monuments Commission
Action Date: World War II
Service: Navy
Rank: Lieutenant Commander
Company: Fighting Squadron
The "Register of Commissioned and Warrant Officers of the United States Navy and Marine Corps" was published annually from 1815 through at least the 1970s; it provided rank, command or station, and occasionally billet until the beginning of World War II when command/station was no longer included. Scanned copies were reviewed and data entered from the mid-1840s through 1922, when more-frequent Navy Directories were available.
The Navy Directory was a publication that provided information on the command, billet, and rank of every active and retired naval officer. Single editions have been found online from January 1915 and March 1918, and then from three to six editions per year from 1923 through 1940; the final edition is from April 1941.
The entries in both series of documents are sometimes cryptic and confusing. They are often inconsistent, even within an edition, with the name of commands; this is especially true for aviation squadrons in the 1920s and early 1930s.
Alumni listed at the same command may or may not have had significant interactions; they could have shared a stateroom or workspace, stood many hours of watch together… or, especially at the larger commands, they might not have known each other at all. The information provides the opportunity to draw connections that are otherwise invisible, though, and gives a fuller view of the professional experiences of these alumni in Memorial Hall.
July 1938
Ensign, USS Saratoga
---
Others at this command:
---
Others at or embarked at this command:
January 1939
Ensign, USS Saratoga
---
Others at this command:
---
Others at or embarked at this command:
October 1939
Ensign, USS Saratoga
---
Others at this command:
---
Others at or embarked at this command:
June 1940
Ensign, USS Saratoga
---
Others at this command:
---
Others at or embarked at this command:
November 1940
Ensign, staff, Carrier Division 2, USS Yorktown
---
Others at this command:
---
Others at or embarked at USS Yorktown:
April 1941
Ensign, staff, Carrier Division 2, USS Yorktown
---
Others at this command:
---
Others at or embarked at USS Yorktown:
Keene is one of 72 members of the Class of 1938 on Virtual Memorial Hall.
The "category" links below lead to lists of related Honorees; use them to explore further the service and sacrifice of the alumni in Memorial Hall.