BURDEN R. HASTINGS, LT, USN
From USNA Virtual Memorial Hall
Lucky Bag
From the 1933 Lucky Bag:
Biography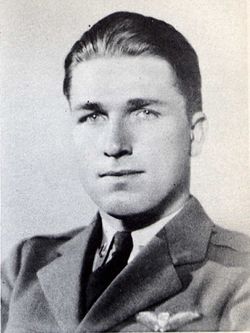 From the 1953 edition of the book "Double Three Roundup," published by the class of 1933:
Barney served a year in the CALIFORNIA, then 18 months in the IDAHO before going to Pensacola for flight training. He got his wings in August 1936, and after 8 more months at Pensacola reported to VB-1B aboard the RANGER. Duty with Torpedo Squadron two in the LEXINGTON followed, then assignment to Patrol Planes, in VP-18, 13, 26, and 102. For extraordinary heroism while attached to VP102 he was awarded the Navy Cross posthumously. The citation reads in part, "For extraordinary heroism as Commander of a six plane Bombing Group while conducting a dawn attack on enemy Japanese ships, in the vicinity of Jolo, Mindanao, Philippine Islands, on 27 December, 1941, Lieutenant Hastings pressed home the attack on an enemy disposition consisting of several large surface combatant and auxiliary ships in the face .of overwhelming air and anti-aircraft opposition." Barney died when his airplane crashed in that operation. A group burial for him and his crew members was made on 29 January 1952 at Fort McPherson National Cemetery in Maxwell, Nebraska.

Barney was one of three classmates to have a ship named after him. The BURDEN R. HASTINGS (DE19), commissioned on 1 May 1943, participated in the Gilbert Islands and Marshall Island operations, took part in raids on Palau, Yap, Ulithi and Wollai, and was credited with one "definitely sunk" Japanese submarine. She was stricken from the Naval Vessel Register in February 1947.

Barney and Elise Hoagland, of Long Beach, California, were married in that city on February 12, 1936. She has since remarried, and as Effie Elise Engomar, is living at 14469 Greenleaf St., Sherman Oaks, California.
Loss
Burden was lost when his PBY-4 Catalina patrol bomber was shot down during an air raid on Jolo, Philippines, on December 27, 1941. He was commanding officer of Patrol Squadron (VP) 101.
His wife was listed as next of kin. He is buried in Nebraska (his remains were repatriated in 1952).
Burden became naval aviator #5172 in 1937.
From Hall of Valor:
The President of the United States of America takes pride in presenting the Navy Cross (Posthumously) to Lieutenant Burden Robert Hastings, United States Navy, for extraordinary heroism in operations against the enemy while serving as Commander of a Navy Patrol Plane and Commanding Officer of Patrol Squadron ONE HUNDRED ONE (VP-101), Patrol Wing TEN (PatWing-10), in action against enemy Japanese naval forces located near Jolo, in the Philippine Islands, on the morning of 27 December 1941. Pressing home his attack in the face of overwhelming air and anti-aircraft opposition, Lieutenant Hastings led his formation, maneuvering his bombers to pass clear of lower clouds until the objective was reached and they had dropped their bombs, inflicting heavy damage upon several enemy war and merchant ships. Lieutenant Hastings' outstanding courage, daring airmanship and devotion to duty were in keeping with the highest traditions of the United States Naval Service. He gallantly gave his life for his country.

General Orders: Bureau of Naval Personnel Information Bulletin No. 304 (July 1942)
Action Date: 27-Dec-41
Service: Navy
Rank: Lieutenant
Company: Patrol Squadron 101 (VP-101)
Division: Patrol Wing 10
Namesake
USS Burden R. Hastings (DE 19) was named for Burden.
Burden is one of 38 members of the Class of 1933 on Virtual Memorial Hall.