JAMES E. BULLOCK, LT, USN
From USNA Virtual Memorial Hall
Date of birth: October 5, 1910
Date of death: July 6, 1942
Age: 31
Lucky Bag
From the 1933 Lucky Bag:
Biography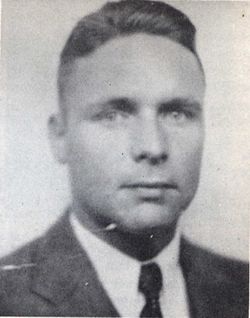 From the 1953 edition of the book "Double Three Roundup," published by the class of 1933:
Who will ever forget Jim's musical accomplishments with the NA Ten? He was commissioned Ensign in the Supply Corps on graduation and assigned to the CALIFORNIA as assistant to The Supply Officer. After a year in this battleship and eight months in the HOUSTON, Jim became Disbursing Officer of Mine Division One. In August 1936, he began a two years' cruise at the Naval Supply Depot, Norfolk, and then two more years as Disbursing Officer for various destroyer divisions.

In June 1940 he went to the Naval Prison at Portsmouth, New Hampshire, but he stayed outside the bars, for he was Supply, Disbursing and Commissary Officer. In October 1941 he went to the Sixteenth Naval District at Cavite in the Philippines. When the Japs took the islands he became a prisoner and died at their hands in June of 1942.

Jim is survived by his widow the former Ellen Francis Rogers of Cincinnati, Ohio, and their daughter, Norma May Bullock. Their address is 3579 Sutton Street in Cincinnati.
Loss
James was executed by Japanese forces on July 6, 1942 while he was a Prisoner of War.
His wife was listed as next of kin; he was also survived by his mother and daughter. James is buried in Arlington National Cemetery.
James is one of 38 members of the Class of 1933 on Virtual Memorial Hall.