EDWARD H. SEILER, JR., CAPT, USN
From USNA Virtual Memorial Hall
Birthdate & Date of Loss
| | |
| --- | --- |
| Date of birth: | August 13, 1918 |
| Date of death: | December 4, 1958 |
| Age: | 40 |
Lucky Bag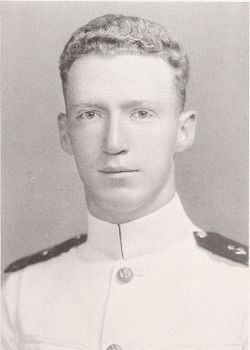 From the 1939 Lucky Bag:
EDWARD HERMAN SEILER, JR.

NEW ORLEANS, LOUISIANA

Ed, Pinky

The fact that he hails from the annual scene of the Mardi Gras cannot deny the unalterable truth that he speaks with a Bronx accent. Academics have been no worry, as his grades have been near the starring mark. This freedom from personal worries relative to the Little Red Books has given Ed spare time which was often spent helping some plebe to get out of the clutches of the Math or Steam Departments. Good-natured by habit, he takes the knocks of life as they come without wasting a lot of words that wouldn't help. His ambition includes either a pair of wings over his breast pocket or a bridge under his feet — maybe both, of course. And he's well on his way.

Battalion Baseball 3, 1; Log Staff 1; G.P.O.
Loss
From Find A Grave:
Lieutenant (Junior Grade) E. H. Seiler, USN was designated Naval Aviator #11545 in 1942. Graduated from U.S. Naval Academy, Class of 1939. Captain Seiler was killed, along with with Navy Capt. William Alvah Thorn (NA #4146/1935), when the twin-engined JRB Beechcraft they were flying crashed into the Potomac River shortly after taking off from NAS Anacostia, Wash., D.C.

Captain Seiler was survived by his widow, Mrs. Madeleine Monju Seiler, two daughters and two sons.
Career
From the 1956 cruise book from USS Lexington (CV 16):
Executive Officer, Edward H. Seiler, Jr., Commander, USN

Born in New Orleans, still his home, on Aug 13, 1918, Cdr. Seiler from the US Naval Academy in 1939, began career on old LEX (CV-2), became naval aviator in 1942, later skippered Patrol Bomber Squadron 207, progressed to Exec of NAS, Norfolk, then assumed present duty on June 15, 1956. He has four children and two nicknames.
From the 1957 cruise book from USS Lexington (CV 16):
Executive Officer, Edward H. Seiler, Jr., Commander, USN

Commander Seiler was born in New Orleans, still his home, on August 13 and graduated from the US Naval Academy in 1939. Beginning his naval career as a junior officer aboard the "Old" LEXINGTON (CV-2), he was designated a naval aviator in 1942 and from July 1944 to January 1945 was Commanding Officer of Patrol Bomber Squadron 207

After serving two years as Executive Officer of Air Transport Squadron 22, he attended the Armed Forces Staff College, Norfolk, Va., from which he graduated in June 1950.

Tours of duty with CNATRA Staff and Fleet Air Wings Atlantic Staff were followed by his assignment to NAS Norfolk as Operations Officer and subsequently as Executive Officer. Commander Seiler returned to the LEXINGTON in 1956 as Executive Officer. He was relieved by Commander Frank Malinasky on 2 September 1957.