DORRANCE S. RADCLIFFE, MAJ, USMC
From USNA Virtual Memorial Hall
Lucky Bag
From the 1938 Lucky Bag:
Obituary
From Find A Grave:
From the Reno Evening Gazette, Monday, December 11, 1950:

MAJOR RADCLIFFE KILLED IN KOREA

Maj. Dorrance Radcliffe, member of a Reno and Sparks family, has been killed in action in Korea, his parents were notified Saturday.

He was the son of Mr. and Mrs. Arthur D. Radcliffe of Sparks. The defense department telegram said that Maj. Radcliffe died of wounds received in battle.

Another son, Melvin Radcliffe, was killed during World War II in the Battle of the Coral Sea while serving with the Navy aboard the destroyer Sims.

Both men were graduates of Reno High School, and of the naval academy in Annapolis, Maryland. Maj. Radcliffe began his Annapolis studies in 1933.

The family lived for many years in Reno. Mr. Radcliffe is a telegrapher with the Southern Pacific Railroad.

In addition to his parents, Maj. Radcliffe is survived by his widow in Newport, Rhode Island, a brother, Arthur Radcliffe of Sparks, and two sisters, Mrs. Blanche Finch of Sacramento, California, and Mrs. Dorothy Allard of Reno.
He is buried in Arlington National Cemetery with his wife.
Loss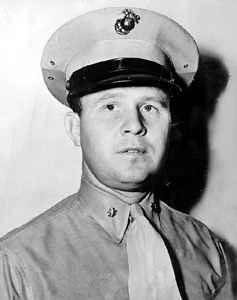 From Korean War Remembrance Project:
Major Radcliffe was a member of Headquarters, 7th Marines, 1st Marine Division. He was seriously wounded while fighting the enemy in Korea [at the Chosin Reservoir] and died of those wounds on December 7, 1950. His brother, Melvin Radcliffe, also a graduate of the Naval Academy, was Killed In Action on the destroyer Sims during the Battle of the Coral Sea in WW II.
From Reno Gazette-Journal on January 31, 1952:
Tribute Paid To Memory of Nevada Marine

The U. S. Marine Corps, long noted for the heroes within its ranks paid tribute Jan. 25 to a Nevada officer who gave his life in Korea, and at the same time offered consolation to his widow, in ceremonies at the marine barracks, Norfolk naval base, Virginia.

Mrs. Regina Radcliffe, a native of Virginia Beach, whose husband, Maj. Dorrance S. Radcliffe, USMC, was killed in action Dec. 7, 1950, received the bronze star medal from the hands of COL R. J. Straub, USMC, commanding officer of the marine barracks at Norfolk. The posthumous award made by the commander of far eastern naval forces, cited Major Radcliffe for "heroic achievement" when, as regimental liaison officer with a marine infantry regiment of the seventh marines, he continuously exposed "himself to direct enemy fire in moving from position to position, directing and supervising the fire of his unit. His outfit was outnumbered by Korean Reds using small arms, machine guns and mortars. Major Radcliffe was mortally wounded Dec. 6, 1950, and died the following day.

Major Radcliffe was the son of Mrs. A. D. Radcliffe of Reno. He was the second son to be killed in action. The other son, Lt. Cmdr. Melvin E. Radcliffe, USN, was aboard the destroyer USS Sims, (DD-409) which was sunk by the Japanese during the battle of the Coral Sea.

Major Radcliffe's mother is now residing at 340 Pyramid way, Sparks, with a third son, Arthur, an army veteran of the Philippine campaign. Major Radcliffe graduated with top honors from the naval academy at Annapolis in the class of 1938 and transferred immediately to the marine corps. He has one son who is attending a military academy in Marion, Alabama.
World War II Service
From Find A Grave:
From the Reno Evening Gazette, Thursday, August 31, 1944:

MARINE OFFICER GETS HIGH RANK

Word was received recently by Mr. and Mrs. A. D. Radcliffe of Reno of the promotion of their son, Dorrance, to the rank of lieutenant colonel in the marine corps.

A graduate of Reno High School, Col. Radcliffe attended the University of Nevada and was graduated from the US Naval Academy with the class of 1938. He is now head of the marine southern division of recruiting and induction with headquarters in Macon, Georgia, where Mrs. Radcliffe is with him.

A brother, Lt. Com. Melvin Radcliffe of the navy, also an Annapolis graduate, was declared missing in April, 1942. His wife, Mrs. Gloria Radcliife of Reno, received official notification that he had been declared dead a year later in June, 1943. He was serving in the Pacific at the beginning of the war, and Mrs. Radcliffe has since received the purple heart awarded him.

Another brother, Sgt. Arthur Radcliffe of the army, is now serving with the signal corps in New Guinea.
From "A Brief History of the Ninth Marines 1942-1945":
LIEUTENANT COLONEL DORRANCE S. RADCLIFFE, USMC

After spending a considerable time in sea duty, Lieutenant Colonel Dorrance S. Radcliffe of Reno, Nevada, joined the Ninth as commander, 2d Battalion.

Lieutenant Colonel Radcliffe is a graduate of Annapolis, having entered the Marine Corps immediately following graduation in 1938. He served with the Ninth only a few weeks.
Later his service in the Regiment was shown as April 20, 1945 to June 1, 1945; he saw no major action during this time.
It's unclear why he was a Major in Korea having earlier in his career been a LTCOL, but this is the rank reflected in all reports, in Memorial Hall, and on his headstone.
Family
His brother, Melvin Radcliffe '35, was lost when USS Sims (DD 409) was sunk at the Battle of the Coral Sea in May 1942.
Dorrance is one of 71 members of the Class of 1938 on Virtual Memorial Hall.