DONALD R. MIDGLEY, LT, USN
From USNA Virtual Memorial Hall
Birthdate & Date of Loss
| | |
| --- | --- |
| Date of birth: | January 14, 1918 |
| Date of death: | April 18, 1944 |
| Age: | 26 |
Lucky Bag
From the 1941 Lucky Bag:
DONALD RAYMOND MIDGLEY

Hopedale, Miss.

Ten years from now, I want lo remember Midge sitting in the room with a skag in his hand, oversized feet propped on the desk, green eyeshade hanging dismally over his eyes, and steel-rimmed glasses riding precariously on the far end of his nose. There he sits, running his hand through his slowly disappearing hair, his long, gangling figure sagging in the chair, and a far-away look in his bright blue eyes. Maybe he's thinking of all those wonderful days of leave spent in the Massachusetts woods, or of his home and family in the thriving metropolis of Hopedale. Or perhaps he's thinking of the future and the plans he's made for it. Most likely, however, he's trying to figure how he subtracted 4 from 19 on that Nav-P-work and got 13!

I want to remember how he defended our eight-inch radio speaker, Boston's broad A's, Yankee women, advantages of smoking, and weekend watches. Full of humor and optimism, Don has an unruffled serenity that is a delight to find in this Navy.

Track 4, 3, 1; Boat Club 4, 2, 1.
The Class of 1941 was the first of the wartime-accelerated classes, graduating in February 1941.
Loss
Donald was lost when USS Gudgeon (SS 211) was sunk, likely on April 18, 1944, near the Maug Islands. He was the Executive Officer.
His parents were listed as next of kin.
Obituary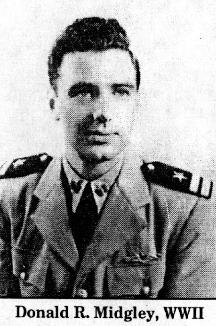 From From Hope 1842:
HOPEDALE, Jan. 28 [1946] - Lieut. Donald Raymond Midgley, 28, son of Mr. and Mrs. John Midgley, 171 Dutcher Street, who has been listed as missing in action since May 1944, is now presumed to be deceased, according to a letter received Saturday by his parents.

Lieut. Midgley was born in Milford and came here to live as a young boy. He graduated from the high school and then entered the Naval Academy in Annapolis, graduating in 1941

He was assigned to the cruiser Astoria and later attended the submarine school in New London and a gunnery school, and before entering the submarine service was a gunnery instructor. He had served in the submarine service two years, being executive officer and second in command on the Gudgeon.

This sub was credited by the navy with the sinking of more tonnage of enemy craft than any other and in December 1943, the officers and crew were cited and Lieut. Midgley received the submarine combat insignia with three stars.

Lieut. Midgley was on his last patrol at the time the sub was reported missing. As all members of the 1941 class at Annapolis have attained the rating of lieutenant commander, he doubtless would have been accorded this commission had he returned to the base.

In addition to his parents, he is survived by a sister, Mrs. J. Francis Cahill of Milford. He is the 10th local serviceman to give his life in World War II and the last of several men reported as missing to be officially declared deceased.

The communication from the Navy department follows:

"Your son, Lieut. Donald Raymond Midgley, United States Navy, has been carried on the official records of the Navy department in the status of missing in action as of May 5, 1944. He was serving on board the USS Gudgeon when that submarine failed to return from patrol operations in the Pacific area.

On April 7, 1944, the Gudgeon departed from Johnston Island to patrol waters in the Western Pacific where she was likely to encounter the enemy. Subsequent to her departure from Johnston Island, the Gudgeon failed to acknowledge three messages, the last of which was sent on May 14, 1944. To date, no further information has been received by the navy concerning the fate of the submarine.

In view of the length of time that has now elapsed since your son was reported to be missing and because there have been on official nor unconfirmed reports that any personnel of the vessel survived or were taken prisoner of war, I am reluctantly forced to the conclusion that your son is deceased." James Forrestal

Milford Daily News
This site also includes several other newspaper clippings for Donald, including his acceptance to the Naval Academy, summer cruises, and other milestones.
From Hall of Valor:
The President of the United States of America takes pleasure in presenting the Navy and Marine Corps Medal to Lieutenant Donald R. Midgley, United States Navy, for heroic conduct while serving aboard a United States Submarine during war patrols in enemy controlled waters during World War II. As Assistant Engineering Officer during two war patrols in enemy waters, Lieutenant Midgley performed essential duties with great professional skill. On one occasion he sighted a hostile ship and assisted in a successful night surface attack.

General Orders: Bureau of Naval Personnel Information Bulletin No. 324 (March 1944)
Action Date: World War II
Service: Navy
Rank: Lieutenant
Division: United States Submarine
He was also twice awarded the Bronze Star; unable to find either citation.