ROBERT A. BONIN, LCDR, USN
From USNA Virtual Memorial Hall
Lucky Bag
From the 1936 Lucky Bag:
Loss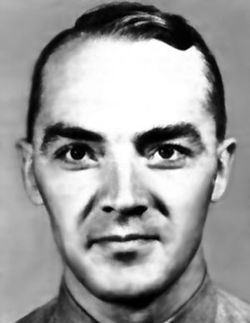 Robert was lost when USS Gudgeon (SS 211) was sunk, likely on April 18, 1944, near the Maug Islands. He was the boat's commanding officer.
His wife was listed as next of kin. Robert has a memory marker in Wisconsin.
Career
From Fleet Organization:
Under Instruction Submarine School New London Jul 1939 - Dec 1939
Communications Officer USS S-20 (SS-125) 1 Jul 1940 - 1 Nov 1940
Engineering Officer USS Grayling (SS-209) 1942 - 1943
Executive Officer USS Grayling (SS-209) 1 Apr 1943 - 1 Jul 1943
Staff Submarine Division Sixty Two 31 Aug 1943 - 2 Jan 1944
Captain USS Gudgeon (SS-211) Mar 1944 - Apr 1944
Ensign 4 Jun 1936
Lieutenant (j.g.) 4 Jun 1939
Lieutenant (T) 1 Jan 1942
Lieutenant 1 Mar 1942
Lieutenant Commander (T) 1 May 1943
Wartime Service
He had taken command of Gudgeon on March 5, 1944, barely a month before she was sunk.
Grayling, the boat in which he had his XO tour, was sunk in September 1943, a few months after he had left.
Silver Star
From Hall of Valor:
The President of the United States of America takes pride in presenting the Silver Star (Posthumously) to Lieutenant Commander Robert Alexander Bonin (NSN: 0-77035), United States Navy, for conspicuous gallantry and intrepidity as Engineer Officer and later as Executive Officer of the U.S.S. GRAYLING (SS-209), in action against enemy Japanese forces during five of the six hazardous War Patrols completed by that Submarine prior to 4 May 1943. Exercising sound judgment and superior technical knowledge, Lieutenant Commander Bonin rendered invaluable assistance to his ship throughout numerous offensive attacks and courageously supervised his depth-charge station during severe enemy countermeasures, thereby contributing materially to the success of the GRAYLING in sinking five hostile vessels totaling 26,007 tons. The splendid initiative and valiant devotion to duty displayed by Lieutenant Commander Bonin under extremely difficult conditions were an inspiration to his associates and was in keeping with the highest traditions of the United States Naval Service.

General Orders: Commander 7th Fleet: Serial 0384 (February 21, 1944)
Action Date: 1942 - 1943
Service: Navy
Rank: Lieutenant Commander
Division: U.S.S. Grayling (SS-209)
Other
Robert's wife was sponsor of USS Gudgeon (SS 567), launched in June 1952.
Robert is one of 39 members of the Class of 1936 on Virtual Memorial Hall.