ALBERT M. BONTIER, CDR, USN
From USNA Virtual Memorial Hall
Lucky Bag
From the 1935 Lucky Bag:
Loss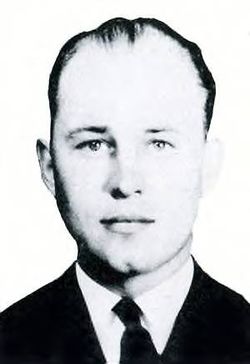 Albert was lost when USS Seawolf (SS 197) was probably sunk by friendly fire from USS Richard M. Rowell off Morotai on October 3, 1944. He was the boat's commanding officer; it was his second war patrol as CO of Seawolf.
His wife was listed as next of kin.
Career
From Fleet Organization:
Duty USS Holland (AS-3) 1 Jul 1939 - 1 Oct 1939
Under Instruction Submarine School New London Jan 1940 - Jun 1940
Gunnery Officer USS S-23 (SS-128) Jul 1940 - 1 Apr 1941
Gunnery & Torpedo Officer USS Spearfish (SS-190) Dec 1941 - Dec 1942
Duty including Relief Crew Commander Submarine Division Twenty Two Jul 1943 - Oct 1943
Executive Officer USS Sculpin (SS-191) 1 Apr 1943 - 1 Jul 1943
Captain USS Razorback (SS-394) 3 Apr 1944 - 5 Jun 1944
Captain USS Seawolf (SS-197) 30 Jun 1944 - 3 Oct 1944
Lieutenant (j.g.) 6 Jun 1938
Lieutenant 8 Dec 1941
Lieutenant Commander (T) 1 May 1943
Commander (T) 1 Mar 1944
He was relieved of command of USS Razorback (SS 394) after the boat grounded during trials.
Silver Star
From Hall of Valor:
The President of the United States of America takes pride in presenting the Silver Star (Posthumously) to Lieutenant Albert Marion Bontier (NSN: 0-74825), United States Navy, for conspicuous gallantry and intrepidity in action in the performance of his duties as Assistant Approach Officer in the U.S.S. SPEARFISH (SS-190), during the THIRD War Patrol of that Submarine in the Southwest Pacific Area from 27 March 1942 to 20 May 1942. His excellent judgment and thorough knowledge of attack problems assisted his Commanding Officer in conducting attacks which resulted in the sinking of two enemy ships, totaling 10,000 tons. In addition, he assisted considerably in completing a special mission where many military and naval personnel were rescued from an island fortress under constant enemy attack. His coolness and high devotion to duty contributed directly to the success of his vessel in evading severe enemy countermeasures. His conduct throughout was an inspiration to all with whom he served, and was in keeping with the highest traditions of the United States Naval Service.

General Orders: Commander in Chief, Pacific: Serial 01090 (June 11, 1946)
Action Date: March 27 - May 20, 1942
Service: Navy
Rank: Lieutenant
Division: U.S.S. Spearfish (SS-190)
Other
His widow was the sponsor of USS Salmon (SS 573) in 1956.
Albert is one of 56 members of the Class of 1935 on Virtual Memorial Hall.