BENJAMIN GHETZLER, LT, USN
From USNA Virtual Memorial Hall
Lucky Bag
From the 1931 Lucky Bag:
Loss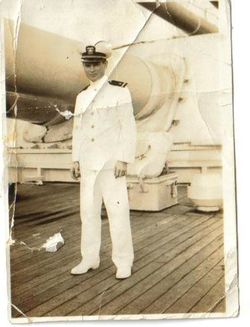 Benjamin was lost when USS Reuben James (DD 245) sunk by a torpedo attack from German submarine U-552 near Iceland on October 31, 1941.
He had no one listed as next of kin. He has a memory marker in Texas — its inscription reads in part "beloved son and brother."
He had likely not been aboard Reuben James for very long; the April 1, 1941 Navy Directory lists him as aboard USS Goff (DD 247).
Related Articles
James M. Belden '36, John J. Daub, Jr. '36, Heywood L. Edwards '26, Dewey G. Johnston '34, and Craig Spowers '41 were also lost when the Reuben James sunk.
Benjamin is one of 51 members of the Class of 1931 on Virtual Memorial Hall.