BENJAMIN GHETZLER, LT, USN
From USNA Virtual Memorial Hall
Date of birth: September 19, 1907
Date of death: October 31, 1941
Age: 34
Lucky Bag
From the 1931 Lucky Bag:
Loss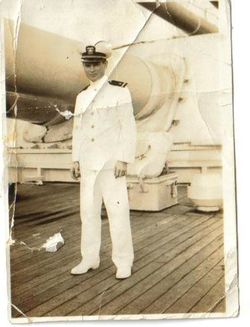 Benjamin was lost when USS Reuben James (DD 245) sunk by a torpedo attack from German submarine U-552 near Iceland on October 31, 1941.
He had no one listed as next of kin. He has a memory marker in Texas — its inscription reads in part "beloved son and brother."
He had likely not been aboard Reuben James for very long; the April 1, 1941 Navy Directory lists him as aboard USS Goff (DD 247).
Benjamin is one of 51 members of the Class of 1931 in Memorial Hall.