ELLIOTT E. MARSHALL, CDR, USN
From USNA Virtual Memorial Hall
Lucky Bag
From the 1931 Lucky Bag:
Loss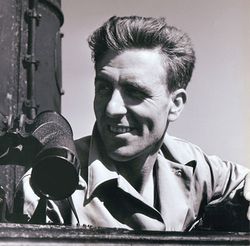 Elliott was lost when USS Capelin (SS 289) was lost in early December 1943, possibly to a mine or surface attack. He was the boat's commanding officer.
His wife was listed as next of kin; he was also survived by at least one child (a son).
Career
From Fleet Organization:
Duty United States Naval Observatory 1 Jul 1939 - 1 Oct 1939
Executive Officer USS Pollack (SS-180) 1 Jul 1940 - 31 Dec 1940
Captain USS O-4 (SS-65) 29 Jan 1941 - 1 Apr 1942
Captain USS Cuttlefish (SS-171) 23 Jun 1942 - 31 Dec 1942
Captain USS Capelin (SS-289) 4 Jun 1943 - Dec 1943
Lieutenant (j.g.) 4 Jun 1934
Lieutenant 1 Jul 1939
Lieutenant Commander (T) 15 Jun 1942
Commander (T) 1 Nov 1942
From Hall of Valor:
The President of the United States of America takes pleasure in presenting the Navy Cross to Lieutenant Commander Elliott Eugene Marshall, United States Navy, for extraordinary heroism in the line of his profession as Commanding Officer of the U.S.S. CUTTLEFISH (SS-171), on the THIRD War Patrol of that submarine during the period 23 July 1942 to 20 September 1942, in enemy controlled waters of the Solomon Islands. Fearlessly availing himself of every attack opportunity during the hazardous days spent in an assigned area in the immediate vicinity of the enemy coast line, Lieutenant Commander Marshall and his command succeeded in sinking 29,600 tons of enemy shipping and in severely destroying a Japanese destroyer of 1,500 tons. Although subjected to vigorous anti-submarine measures following every attack and under terrific pressure and mental strain after a period totaling fifty-nine days on war patrol, Lieutenant Commander Marshall brought his ship through with only minor damage and his crew home with fighting spirit undiminished.

Service: Navy
Rank: Lieutenant Commander
Memorial Hall Error
Memorial Hall lists Elliott as a LCDR; he was promoted to Commander on November 1, 1942.
Note some sources have "Elliot" with one T; majority of others have "Elliott".
Elliott is one of 51 members of the Class of 1931 on Virtual Memorial Hall.