FRED CONNAWAY, CDR, USN
From USNA Virtual Memorial Hall
Lucky Bag
From the 1932 Lucky Bag:
Loss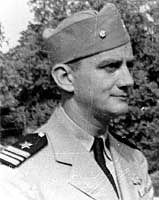 Fred was killed by a shell from a Japanese destroyer that struck USS Sculpin (SS 191) shortly before she was sunk on November 19, 1943.
Fred had only recently taken command of Sculpin on October 20, 1943. He seems to have had command of USS S-48 (SS 159) twice: briefly from December 1940 to January 1941 and again from December 1941 to "mid 1943."
From Sub Vet Paul:
About noon on 19 November, a close string of 18 depth charges threw SCULPIN, already at deep depth, badly out of control. The pressure hull was distorted, she was leaking, steering and diving plane gear were damaged and she was badly out of trim. Commander Connaway decided to surface and to fight clear. The ship was surfaced and went to gun action. During the battle Commander Connaway and the Gunnery Officer were on the bridge, and the Executive Officer was in the conning tower. When the destroyer placed a shell through the main induction, and one or more through the conning tower, these officers and several men were killed
There are more survivor's accounts of Sculpin's last action are posted at that page.
The 1950's TV show "Silent Service" had an episode devoted to Sculpin; it is available to view here.
His wife was listed as next of kin.
(Unable to find a citation for the Silver Star listed here.)
Career
From Fleet Organization:
Duty USS S-26 (SS-131) 1939
Under Instruction Post Graduate School United States Naval Academy 1939
Duty USS Sturtevant (DD-240) 1 Oct 1939 - 1 Jul 1940
Executive Officer USS S-13 (SS-118) 27 Oct 1940
Acting Captain USS S-48 (SS-159) 10 Dec 1940 - 2 Jan 1941
Executive Officer USS S-48 (SS-159) Jan 1941 - Dec 1941
Captain USS S-48 (SS-159) 1 Jan 1942 - 2 Apr 1943
Captain USS Sculpin (SS-191) 20 Oct 1943 - 19 Nov 1943
Lieutenant (j.g.) 2 Jun 1935
Lieutenant 26 Jun 1940
Lieutenant Commander (T) 15 Jun 1942
Commander (T) 18 Nov 1942
Other
Fred's widow, Loretta, commissioned USS Sculpin (SSN-590); she is pictured on page 7 of the boat's commissioning booklet.
Fred is one of 52 members of the Class of 1932 on Virtual Memorial Hall.