VILAS R. KNOPE, LT, USN
From USNA Virtual Memorial Hall
Lucky Bag
From the 1920 Lucky Bag:
Loss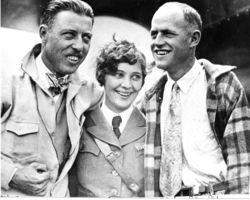 Sy was lost on August 16, 1927 when the aircraft he was aboard, Miss Dolan, went missing during the Dole Air Race from Oakland, California to Honolulu. He was the navigator.
Buhl CA-5 Air Sedan, NX2915, named Miss Doran. Repairs from its unscheduled landing in the farmer's field had been accomplished. It was flown by John "Auggy" Pedlar with Lieutenant Vilas R. Knope, U.S. Navy, as navigator. Also aboard was a passenger, Miss Mildred Doran, the airplane's namesake. She was a 23-year-old fifth-grade school teacher from Flint, Michigan, who knew William Malloska, owner of the Lincoln Petroleum Company (later, CITGO) and convinced him to enter an airplane in the Dole Air Race and allow her to fly along. Two local air circus pilots reportedly flipped a coin for the chance to fly the airplane. Auggy Pedlar won the toss. Just ten minutes after takeoff from Oakland Field, Miss Doran returned with engine problems.
The aircraft took off again a short while later, was seen over the Farallon Islands, and then disappeared.
Sy has a memory marker in Wisconsin.
Related Articles
George Covell '22 and Richard Waggener '22 were entered in this race as well, but died on their way to Oakland.
Vilas is one of 27 members of the Class of 1920 on Virtual Memorial Hall.