ROBERT R. OGG, CAPT, USMS
From USNA Virtual Memorial Hall
Lucky Bag
From the 1917 Lucky Bag:
Loss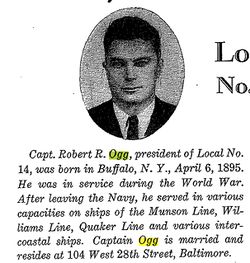 Robert was lost in March 1944 — most likely March 10 and certainly before March 20 — when he drowned at sea. He was a Captain in the US Maritime Service and on active duty as "Master of a convoy vessel bound for the South Pacific."
He was the president of the Master, Mate, and Pilot union local no. 14 (Baltimore); from 1938 until he resigned in 1942.
From the March 21, 1944 edition of the Baltimore Sun:
CAPTAIN OGG DROWNS, WIFE IS NOTIFIED

With Maritime Service, Former Annapolis Man Buried at Sea

Capt. Robert Ogg, United States Maritime Service, a former instructor at the Naval Academy and president of the Masters, Mates and Pilots' Association here for four years,, has been drowned at sea, his wife, Mrs. Frances G. Ogg, of 104 West 28th Street, was informed last night by the War Shipping Administration.

At the same time, the War and Navy departments reported two other Marylanders killed in the line of duty in this country, two others missing in action overseas, and six wounded in action.

Captain Ogg, 48, had been on active duty with the merchant marine since 1942, when he resigned his presidency of the pilot's association. He had completed two tours of duty, to Russia and North Africa, and shipped out last December as master of a convoy vessel bound for the South Pacific.

No Details Given
The War Shipping Administration informed his wife he was "drowned and buried at sea" and revealed no other details.

Born in Buffalo, N.Y., he was graduated from the Naval Academy in 1917 and was on active duty with the navy until 1929, when he returned to the Naval Academy as an instructor, with the rank of lieutenant commander.

He was retired from the navy several years later and became president of the Pilots' Association in 1938. He made his home in Baltimore for some time prior to going overseas.

Surviving besides his wife is a brother, John H. Ogg, of New York City.
From the Baltimore Sun of March 11, 1945:
IN MEMORIAM

OGG.— In loving memory of our beloved CAPT. ROBERT R., who was killed at Midway Base, March 10, 1944.

We do not think of you as dead;
You have sailed away to a far and better land.
And some day we shall meet again.

Anniversary Mass at SS. Philip and James'.
HIS FAMILY.

OGG.— In loving memory of our beloved CAPT. ROBERT R. who was killed Midway Base, March 10, 1944.

You gave us the last full measure of devotion for us all.
You understood men in every walk of life
Your memory shall be cherished by us forever.
As the grandest old skipper who ever sailed the seven seas.

OFFICERS AND CREW OF HIS SHIP.
Notes
He appears in the Lucky Bag as "Richard;" this appears to be a typo as all other mentions found are to Robert. (Corrected in the Lucky Bag transcription above.)
April 1944 Shipmate: "ROBERT RENNIE OGG, '17, Captain, U. S. Maritime Service. Drowned at Sea in March 1944."
September 1946 Shipmate: "OGG, ROBERT R., Captain, US Maritime Service. Drowned and buried at sea. About 21 March 1944."
Register of Alumni: "Ogg, Robert Rennie 4/10/1944, CAPT USMS"
He is listed in the Register of Commissioned and Warrant Officers of the United States Navy and Marine Corps of 1921 with a rank of Lieutenant and a birthdate of April 26, 1895; this birthdate is identical to that given in the MMP magazine in 1939.
He is not on the US Merchant Marine list of casualties, though the site acknowledges it is an incomplete record.
The MMP did not respond to an email requesting information on August 3, 2018.
Further Research
The War Diary for the Midway Island Naval Operating Base would likely mention Robert's loss. Unable to find a record with the appropriate date; there is this record from late 1945. Unclear on what the file unit "Shore Establishments, Midway Island Naval Operating Base 'Midway Mirror'" is or what years it covers. There are also Midway Island Submarine Base records.
Memorial Hall Error
Robert's omission was identified through the diligent efforts of Leslie Poche, a volunteer who combed through Shipmate issues to find operational losses not accounted for in Memorial Hall.
Robert is one of 8 members of the Class of 1917 on Virtual Memorial Hall.