ROBERT R. OGG, CAPT, USMS
From USNA Virtual Memorial Hall
Date of birth: April 6, 1895
Date of death: March 21, 1944
Age: 48
Lucky Bag
From the 1917 Lucky Bag:
Loss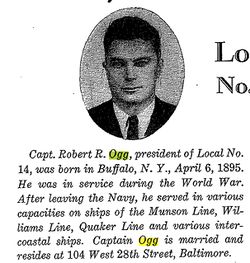 Robert was lost in March 1944 — probably March 10, 1944 — when he drowned at sea. He was a Captain in the US Maritime Service. As of 1939 he was the president of the Master, Mate, and Pilot union local no. 14 (Baltimore).
Notes
He appears in the Lucky Bag as "Richard;" this appears to be a typo as all other mentions found are to Robert.
April 1944 SHIPMATE: "ROBERT RENNIE OGG, '17, Captain, U. S. Maritime Service. Drowned at Sea in March 1944."
September 1946 SHIPMATE: "OGG, ROBERT R., Captain, US Maritime Service. Drowned and buried at sea. About 21 March 1944."
Register of Alumni: "Ogg, Robert Rennie 4/10/1944, CAPT USMS"
He is listed in the Register of Commissioned and Warrant Officers of the United States Navy and Marine Corps of 1921 with a rank of Lieutenant and a birthdate of April 26, 1895; this birthdate is identical to that given in the MMP magazine in 1939.
He is not on the US Merchant Marine list of casualties, though the site acknowledges it is an incomplete record.
The MMP did not respond to an email requesting information on August 3, 2018.
Memorial Hall Error
Though we have been unable to find details of his death, the description "drowned at sea" strongly implies his loss was related to his occupation in the Maritime Service. He was identified through the diligent efforts of Leslie Poche, a volunteer who combed through SHIPMATE issues to find operational losses not accounted for in Memorial Hall.
Robert is one of 8 members of the Class of 1917 in Memorial Hall.