ROBERT M. SMITH, JR., CAPT, USN
From USNA Virtual Memorial Hall
Lucky Bag
From the 1919 Lucky Bag:
Loss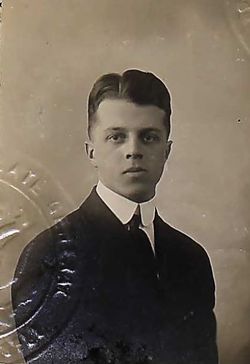 Robert was lost on November 11, 1942 when the ship he commanded, USS Joseph Hewes (AP 50), was torpedoed and sunk by a German submarine in Fedala Roads off French Morocco during the Naval Battle of Casablanca. He had been in command since the ship had completed conversion to a troopship and placed in commission on May 1, 1942.
His wife was listed as next of kin. Robert has a memory marker in Maryland.
History of USS Joseph Hewes (AP 50)
From Naval History and Heritage Command:
Joseph Hewes (AP-50), formerly Excalibur, was built in 1930 by the New York Shipbuilding Co., Camden, N.J.; acquired by the Navy 8 January 1942; and commissioned I May 1942, Captain Robert McL. Smith in command. After conversion and fitting out, Joseph Hewes sortied from Hampton Roads 24 October with the Center Attack Group of Admiral Hewitt's Western Naval Task Force en route to French Morocco. She was carrying 80 officers and 1,074 men of the reinforced 3d Division, U.S. Army, plus vehicles and supplies. The transport arrived off Fedhala 8 November, by 0705 landed all troops, and then commenced unloading ammunition and supplies. By 11 November Joseph Hewes had completed unloading and had received 30 casualties from the beach. At 1950 she took a torpedo hit in No. 2 hold from U-173. The transport settled by the bow and began filling rapidly with water. Captain Smith endeavored to pick up anchor or slip chain but, as the entire forecastle was under water, this was not possible. He then attempted to beach the ship by backing engines but her propeller was out of the water, so the order was given to abandon ship. Joseph Hewes went down at 2032, taking Captain Smith and several seamen with her. By his coolness, calmness, and his devotion to duty in placing the safety of the crew and ship before his own, he instilled confidence in every officer and member of the crew. The U-113 paid heavily for her victory, for she was sunk 5 days later off Casablanca by American destroyers.
Silver Star
From Hall of Valor:
The President of the United States of America takes pride in presenting the Silver Star (Posthumously) to Captain Robert Mclanahan Smith, Jr. (NSN: 0-34537), United States Navy, for conspicuous gallantry and intrepidity in action as Commanding Officer of the U.S.S. JOSEPH HEWES (AP-50), when that ship was torpedoed and sunk off Fedala, French Morocco, on 11 November 1942. Captain Smith's remarkable display of command and his exceptional heroism and outstanding devotion to duty at a time when efficient direction and control of the existing situation meant the saving of many lives, were inspirational. The cool, forceful, commanding manner in which he acted and maintained order in an extremely dangerous situation, and the calm inspiring way in which he spoke to his men as he ordered them overboard, gave them confidence, courage and hope. The exemplary conduct of Captain Smith, at the cost of his own life, was in keeping with the highest traditions of the United States Naval Service.

Service: Navy
Division: U.S.S. Joseph Hewes (AP-50)
Rank: Captain
Robert is one of 11 members of the Class of 1919 on Virtual Memorial Hall.