EUGENE F. BURKETT, LT, USN
From USNA Virtual Memorial Hall
Lucky Bag
From the 1920 Lucky Bag:
Loss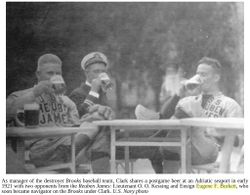 Eugene was lost on January 7, 1930 when his aircraft crashed during a training flight. He and Ensign John D. Clark were flying an amphibious aircraft that fell 1500 feet into the San Diego bay, according to newspaper accounts at the time.
Eugene was survived by his wife, Martha, and is buried in Arlington National Cemetery. He was also survived by his father, the Reverend J.C. Burkett, and two brothers, J.C. Burkett, Jr. and O.S. Burkett, and three sisters, Mrs. Bernice Eranson, Mrs. L.B. Howard, and Mrs. J. Cran Hardin.
From Abilene Reporter-News from Abilene, Texas, on November 2, 1941 (shortly after the sinking of USS Reuben James):
The United States destroyer Reuben James, sent to the Atlantic ocean floor Friday by a torpedo presumed to have been fired by a nazi submarine, had an Abilene boy as one of its officers on its first long cruise, in 1921, it was recalled here Saturday.

He was Ensign Eugene F. Burkett, son of the late Rev. and Mrs. J. C. Burkett, an officer on its maiden cruise to England, Spain and the Mediterranean.

A Midland high school graduate, Burkett was a member of the class of 1916 at Hardin-Simmons university, and was appointed to the U. S. Naval academy by Congressman W. R. Smith, Colorado City. He was a member of the 1920 class at the naval academy, Annapolis.

After a year aboard the Reuben James, Ensign Burkett, later promoted to a naval lieutenancy, was assigned to the naval air corps. He was two years at Pensacola and two years an instructor at the San Diego, Calif., base.

He was an officer on the U. S. navy expeditionary flights to Alaska, and the routes then mapped are still used between San Francisco and Juneau. He was killed on a training flight in January, 1930, and is buried at Arlington National cemetery. On May 31, 1930, the U. S. geographic board named an Alaskan mountain peak Mt. Burkett In his memory.

O. S. Burkett, 534 Cedar, a brother, has a photograph of the Reuben James hanging on a wall of his auditor office in the Alexander building, where it has hung for 10 years.

He was one who recalled the early voyages of the destroyer in the first year of its launching, two decades before a torpedo hit sent it to the bottom, while on convoy duty.
Distinguished Flying Cross
From Hall of Valor:
The President of the United States of America takes pride in presenting the Distinguished Flying Cross (Posthumously) to Lieutenant Eugene F. Burkett, United States Navy, for extraordinary achievement while participating in aerial flight as navigator of the Alaskan Aerial Expedition during the Summer of 1926, materially aiding in successfully performing a hazardous and difficult aerial survey of Southeastern Alaska.

General Orders: Bureau of Naval Personnel Information Bulletin No. 144 (November 8, 1930)
Service: Navy
Division: Alaskan Aerial Expedition
Rank: Lieutenant
Namesake
Mountain Burkett, in Alaska, is named for Eugene.
Eugene is one of 27 members of the Class of 1920 on Virtual Memorial Hall.