JOSEPH L. LACOMBE, LT, USN
From USNA Virtual Memorial Hall
Lucky Bag
From the 1933 Lucky Bag:
Biography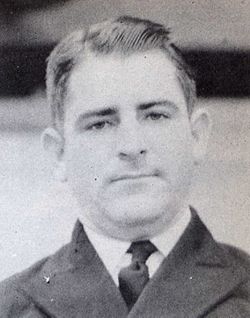 From the 1953 edition of the book "Double Three Roundup," published by the class of 1933:
Joe, being a member of 33'B, did not receive his commission until May, 1934. He then spent two years in the CHICAGO, followed by consecutive turns of duty in the ASTORIA, ANTARES, BADGER, NITRO and TENNESSEE. In 1939 he was ordered to the South China Patrol, serving first in the MINDANAO, then the MARBLE HEAD and finally the PECOS.

While serving in the PECOS, on 1 March 1942, Joe was officially reported as Missing in Action, when the PECOS was bombed by Japanese planes and sank in the open sea south of Java. For his gallantry in action on that fateful day, Joe was awarded the Silver Star Medal and a Commendation Ribbon. Joe was in charge of the anti-aircraft control party, and he continued directing their actions until the order to abandon ship, only 18 minutes prior to the sinking of the PECOS.

After Joe's death his widow, Johnnie Mae, who had been living in Santa Barbara, California, moved to New York. She and their daughter, Yolanda, who was born in August 1938, are living at apartment 33, 610 West 116th Street in New York City.
Loss
Joseph was lost when USS Pecos (AO 6) was sunk by Japanese carrier-based aircraft on March 1, 1942.
He had no listed next of kin, though he was married to Johnnie Mae on December 11, 1937. He has a memory marker in Idaho.
Joseph is one of 38 members of the Class of 1933 on Virtual Memorial Hall.