ROBERT J. DURETTE, LCDR, USN
From USNA Virtual Memorial Hall
Birthdate & Date of Loss
| | |
| --- | --- |
| Date of birth: | July 4, 1917 |
| Date of death: | 1950 |
| Age: | ~32 |
Lucky Bag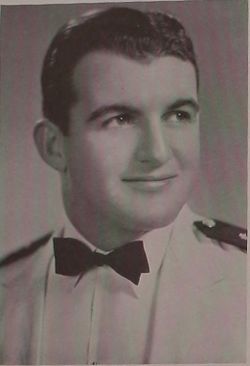 From the 1941 Lucky Bag:
ROBERT JOSEPH DURETTE

New Hampshire

His friends call him Frenchie. A few of his very close ones, whenever they wish to attract his attention, call him "Frog" whereupon Bob is seen to cringe ever so slightly. From deep in the White Mountains, Bob staggered into Washington looking for an appointment. The big city sort of stumped this mountain lad, but he got the appointment and there ended his happy days. From that day on his favorite and most consistent phrase has been, "I don't like it here." His good looks have attracted much attention and recently an officer was heard to remark, "Just what do you do with that cold cream, Mr. Durette?"

When not complaining about the system, he can be found either playing football or getting in shape and meanwhile muttering such nothings as, "I think I'll cut down on the skags"—which he never does. Frenchie's ambition is to be subjected to some more of that Parisian culture and—oh, yes—his pet peeve don't call him sailor—that is if you don't want 185 pounds of wildcat all over you.

Football.
The Class of 1941 was the first of the wartime-accelerated classes, graduating in February 1941.
Life & Loss
Unable to find any information about Robert's life or loss. Birthdate and death year from Find A Grave.
Other
Robert was involved in two aircraft incidents in 1944, both while in a F4U Corsair with Fighting Squadron (VF) 84. The first was on October 3, 1944 near San Clemente Island, California; the second while conducting carrier landing qualifications aboard USS Takanis Bay (CVE 89) on November 27, 1944.