CLYDE C. ELMES, JR., ENS, USN
From USNA Virtual Memorial Hall
Birthdate & Date of Loss
| | |
| --- | --- |
| Date of birth: | March 8, 1918 |
| Date of death: | June 6, 1942 |
| Age: | 24 |
Lucky Bag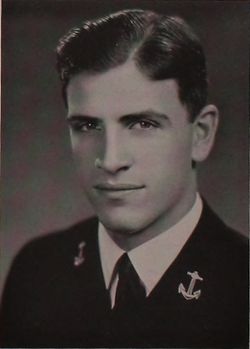 From the 1941 Lucky Bag:
CLYDE COLLAMORE ELMES, JR.

Philadelphia, Pa.

Only a few of his classmates would recognize the rather impressive name, Clyde Collamore Elmes, Jr., because he is known to almost everyone as "Joe." As the story goes, the title "Joe" dates back to the time when "Joe Bush" was the mighty Philadelphia pitching star and C. C.'s particular idol during his baseball-minded days. Since then his interest has shifted to boxing, crew, and —uh—canoes on Spa Creek.

Joe spent all his pre-Navy days in and around Philadelphia and is never quite in his element until he is back among the bright lights. He is a confirmed "big-city" man, but none the less, regards his country friends from the South with a benevolent tolerance that reflects his Yankee broadmindedness. Smooth, bland, and affable, entirely urban, he wears clothes well and smokes a pipe with distinction. But under his debonair finish Joe hides an enthusiastic appreciation of the joys of life; he is particularly fond of music and dancing.

Crew 4, 3, 2; Battalion Boxing 4; Movie Gang 3, 2, 1; Reception Committee 2, 1.
The Class of 1941 was the first of the wartime-accelerated classes, graduating in February 1941.
Loss
Clyde was lost when USS Hammann (DD 412) was sunk by a Japanese submarine on June 6, 1942 in the Battle of Midway.
He was engaged to be married to Jamie Redwood of Mobile, Alabama.
Clyde has a memory marker in Arlington National Cemetery; his father was listed as next of kin.