JAMES E. MCMANUS, ENS, USN
From USNA Virtual Memorial Hall
Birthdate & Date of Loss
| | |
| --- | --- |
| Date of birth: | May 9, 1917 |
| Date of death: | May 7, 1942 |
| Age: | 24 |
Lucky Bag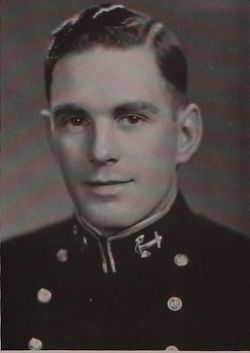 From the 1941 Lucky Bag:
JAMES EDWARD McMANUS

Glenwood Spritos, Colo.

When Jim left Marble, Colorado, he bade adieu to two years of education as a teacher, and a job in the Marble Rock Quarry. This background, and his Irish wit, have served him well. However, his home in the Rockies was hardly conducive to an acquaintance with the sea, and in Maryland he has felt lost without his mountains and trout streams—he felt lost until the Decatur left New York on the destroyer cruise, when he discovered some mountains in the old Atlantic Ocean. "Mac" has a batting average on the diamond to be proud of and an average for blind dragging that his less fortunate classmates can envy. We'd all like to find out how he does it, but even if we can't put our fingers on the qualities that make for Jim's successes, and since they say men are born with these qualities, we'll just have to step aside and fill the bleachers while the world throws her little obstacles across the plate and Jim parks them over the fence.

Baseball 4, 3, 2; N.
The Class of 1941 was the first of the wartime-accelerated classes, graduating in February 1941.
Loss
James was lost when USS Sims (DD 409) was sunk by Japanese dive bombers on May 8, 1942 in the Battle of the Coral Sea.
He has a memory marker in Colorado.