DANIEL F. EMSLIE, ENS, USNR
From USNA Virtual Memorial Hall
Daniel Farnsworth Emslie was admitted to the Naval Academy from New Jersey on June 20, 1941 at age 17 years 8 months. He resigned on November 6, 1943 with the note: "Deficient in studies. Reexamined and again deficient. Discharged under honorable conditions."
Lucky Bag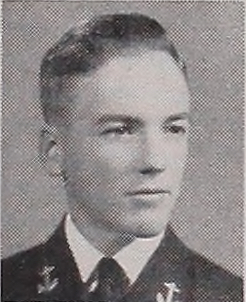 Daniel Farnsworth Emslie is listed among those classmates who did not graduate in June 1944 with the Class of 1945.
Loss
Daniel was lost when his fighter plane crashed during a training flight near Los Alimatos, California, on January 7, 1946. He is buried in New Jersey.
Memorial Hall Error
Daniel is listed in the news report and on his headstone as "USNR;" however, Memorial Hall has USN.
Daniel is one of 59 members of the Class of 1945 on Virtual Memorial Hall.