HENRY N. OATES, ENS, USN
From USNA Virtual Memorial Hall
Birthdate & Date of Loss
| | |
| --- | --- |
| Date of birth: | 1923 |
| Date of death: | 1945 |
| Age: | unknown |
Lucky Bag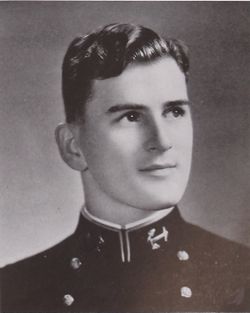 From the 1945 Lucky Bag:
Henry Nelson Oates

Alexandria, Louisiana

Hale and hearty, with a disarming smile that belied those big muscles bulging on his arms, this good-natured southerner made himself famous at the Academy as the man who threw the orange at the Macedonian Monument. Right from the start, Hank was on the short side of the math prof's little red book, but the only effect on him seemed to be a more determined set to his chin until he came out on the winning side. Around "the Hair" we enjoyed his record collection and his bugle, but he spent so much time writing to his girl that he seldom changed records 'til the needle wore through.

Track 4, "45"; Photo Club 3; Model Club 3; Log Staff 1.
The Class of 1945 was graduated in June 1944 due to World War II. The entirety of 2nd class (junior) year was removed from the curriculum.
Life & Loss
Unable to find any information about Henry's life or loss. He is buried in Louisiana.
His gravestone indicates he served aboard USS St. Louis (CL 49). There's no reported action in 1945 where that ship sustained casualties; he also does not appear on the Bureau of Naval Personnel list of WWII casualties.
Related Articles
Robert Brightman '45 and James Reid '45 were also in 6th Company.