HAROLD C. MOYNELO, JR., ENS, USN
From USNA Virtual Memorial Hall
Birthdate & Date of Loss
| | |
| --- | --- |
| Date of birth: | April 26, 1921 |
| Date of death: | July 30, 1945 |
| Age: | 24 |
Lucky Bag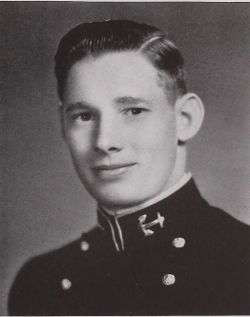 From the 1945 Lucky Bag:
Harold Clifton Moynelo, Jr.

Washington, D.C.

From the hubbub of life in Washington. D. C, Hal came to the country club on the Severn, Bancroft Hall. His main ambition, that of wearing a Naval Academy ring, has been realized. Whatever he did he did in a big way, as his intramural sports' opponents quickly found out. When it came to dragging, he not only led the field but also played it. He liked them all, blondes, brunettes, and redheads: and the feelings were mutual. Variety, evidently, is the spice of life. Equally at home on an athletic field, in a bull session, or at a social function, he made a host of friends and will continue to do so.

Battalion Lacrosse 4, 3, 1; Battalion Pushball 3, 1; Spanish Club 4, 3; Boat Club 4, 3, 1; Radio Club 3, 1.
The Class of 1945 was graduated in June 1944 due to World War II. The entirety of 2nd class (junior) year was removed from the curriculum.
Loss
Robert was lost at sea when USS Indianapolis (CA 35) was torpedoed by a Japanese submarine on July 30, 1945.
He has a memory marker in Georgia.
Harold is mentioned several times in a recounting of the aftermath of the sinking.
From Hall of Valor:
(Citation Needed) - SYNOPSIS: Ensign Harold C. Moynelo, Jr. (NSN: 0-389853), United States Navy, was awarded the Navy and Marine Corps Medal for heroic conduct during World War II

General Orders: American Battle Monuments Commission
Action Date: World War II
Service: Navy
Rank: Ensign
Other
A collector has Harold's posthumous Purple Heart.
Related Articles
Robert Billings '45 was also lost in the sinking.
John Cummins '45 was also in 10th Company.