DARYL D. SUMMERS, LTJG, USN
From USNA Virtual Memorial Hall
Lucky Bag
From the 1964 Lucky Bag:
Loss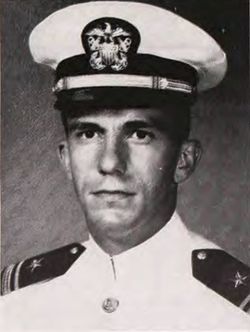 From the June-July 1967 issue of Shipmate:
Lt.(jg) Daryl D. Summers, USN, died on 28 April [1967] in a plane which crashed into the Sea of Japan while on a routine patrol from the Marine Corps Air Station, Iwakuni. A memorial service was held in the Protestant Chapel at Iwakuni for the 12 members of the crew lost in the crash. Services were also held on 3 May at the U. S. Naval Air Station Chapel at Barber's Point, Hawaii.

Lt. Summers, who was born in Mobridge, S. D., was graduated from Central High School in Aberdeen, S. D., when he received the Federated Jewelers Award as the student who had contributed most to the school. He had been governor of Boys State in 1959. Following graduation from the Naval Academy in 1964 he received flight training at Pensacola, Fla., and Corpus Christi, Tex., and had qualified as a Naval Aviation Observer. He was assigned to Patrol Squadron 31 in August 1965, then with Patrol Squadron 4 with duty in Japan.

He is survived by his widow, the former Miss Donna Ray of Aberdeen, and a lO-month-old son Bradley James, of 1431 West Lincoln, Mount Prospect, Ill., and his parents, Mr. and Mrs. Dale E. Summers of 1315 S. Third St., Aberdeen.
All twelve crewmen aboard the P-3A Orion were lost; they were members of Patrol Squadron (VP) 4.
He has one memory marker in South Dakota and another in Arlington National Cemetery.
Related Articles
Galen Gilbert '64 was also in 23rd Company.
Daryl is one of 25 members of the Class of 1964 on Virtual Memorial Hall.