DAVID H. COLLINS, LTJG, USN
From USNA Virtual Memorial Hall
Birthdate & Date of Loss
| | |
| --- | --- |
| Date of birth: | January 28, 1921 |
| Date of death: | December 18, 1944 |
| Age: | 23 |
Lucky Bag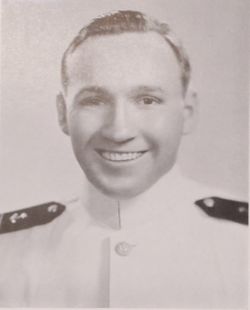 From the 1944 Lucky Bag:
David Harrison Collins

Newport News, Virginia

Having spent most of his life around ships and on the water, Dutch could afford to neglect some of the technical subjects to give his time to his two loves—football and dragging. Week days he spent sweating and groaning on Farragut Field. Weekends he spent dragging, except when the Executive Department often had other plans; not that Dutch behaved worse than the rest of us, but when he was good, he was very, very good, and when he was bad he was caught. Instead of letting misfortune throw him, Dutch would always blow off a little steam and be up for another round.
The Class of 1944 was graduated in June 1943 due to World War II. The entirety of 2nd class (junior) year was removed from the curriculum.
Loss
From Find A Grave:
"Son of Former Local Resident Lost on Spence - Lieut (jg) D H Collins Missing After Destroyer Founders in Typhoon - Lieut (jg) David Harrison Collins, USN, who was assigned to the USS Spence as gunnery officer, one of the three destroyers recently lost in the typhoon in the Pacific, has been reported missing as a result of that storm. His parents, Mr and Mrs B L Collins, former Titusville residents, now at 2109 Roanoke Ave, Newport News, Va, received the War Department telegram recently. The message read: 'The Navy department deeply regrets to inform you that your son, Lieut (jg) David H Collins, is missing while in the service of his country. As you undoubtedly know, the ship to which he was attached was lost in the recent typhoon in the Pacific area. The Navy department deeply regrets the delay in notification, but casualty list has just been received. When further information is received, it will be forwarded to you.' Lieut Collins was graduated last Dec 1 from an officers' gunnery and torpedo school in Honolulu and his parents were informed in his last letter that he was en route to rejoin his ship. He had been attached to the Spence during the entire period of his service, being assigned to her following his graduation from the U S Naval academy in June, 1943. The seaman's mother is a daughter of the late Mr and Mrs S S Harrison of Titusville, and her brother, M T Harrison, lives at Spartansburg." Titusville, PA, Herald, Jan 25, 1945, p.3