DAVID S. KENDRICK, LTJG, USN
From USNA Virtual Memorial Hall
Lucky Bag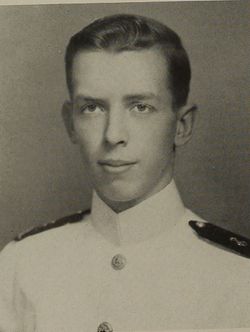 From the 1949 Lucky Bag:
David S. Kendrick

Arlington, Virginia

Dave, a proud Swede originally from that land of the sky blue waters, Minnesota, came to us through Bullis, with two appointments as a result of his scholastic ability. He could swing a tennis racquet almost before he could walk, and ever since has spent much time on the courts. At Navy, he turned to boxing, with fine results. When it came to drags, Dave believed in quality, not quantity; and heads turned as he and his lovely lassies stepped out under Dahlgren's soft lights. His ready wit, wisdom, and smile were always welcome at any gathering. Dave was always in the van, setting the example, and taking the consequences. We wish him luck—may he go far with his wings of gold.
Life & Loss
Unable to find any information about David's life or loss. He is not mentioned in the 1949 Class History.