DEAN T. OUSTERHOUT, LCDR, USN
From USNA Virtual Memorial Hall
Birthdate & Date of Loss
| | |
| --- | --- |
| Date of birth: | December 21, 1926 |
| Date of death: | May 2, 1963 |
| Age: | 36 |
Lucky Bag
From the 1949 Lucky Bag:
Dean T. Ousterhout

East Lansing, Michigan

Dean came to the Naval Academy from the Wolverine State, whence he brought with him a love for winter sports. Perhaps the Maryland weather changed him, for here with winter's last snow still melting you could find him pounding the cinders. He won his N and has been a fine performer in both indoor and outdoor track, running the hurdles and the 440 yard dash. "Da Hoot" was by no means all athlete, for he also enjoyed the finer things in life such as good books, music, and bridge. He was usually calm and collected except when his name was misspelled. Dean has made many friends because of his versatility and undying good humor. A peek into our crystal ball fails to reveal his future, but we are sure that he will find success in his chosen field.
He was also a member of the squash team.
SHIPMATE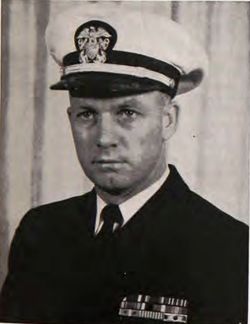 From the June-July 1963 issue of SHIPMATE:
It is with deepest regret that we report the passing on Thursday, 2 May, of DEAN OUSTERHOUT at the Bethesda Naval Hospital. Services were held at the Fort Myer Chapel and burial at Arlington National Cemetery with many classmates and friends in attendance.

A native of Michigan and a wonderful runner during undergraduate days, Dean succumbed after a long bout with brain cancer. He leaves his widow, Anne, and 4 young sons, Dean Jr., John, Andrew, and Paul, presently residing at 5207 Danbury Rd., Bethesda, Md.

After duty in the aircraft carriers Leyte and Hornet, Dean went into submarine engineering and did postgraduate work at Webb Institute. He was decorated for service in the Leyte during Korea and made a contribution to the submarine effort while at SupShips, Groton and the BuShips Submarine Type Desk, which can never be measured in dollars, cents, or battles won. For those of us who have been close to him over the years and who have watched his recent battle with cancer, there can be nothing but the greatest admiration and respect. He's truly as much a victim of war and the cold war effort as those who have died by other means. Anne, our thought will continue to be with you and with the boys.
Dean is buried in Arlington National Cemetery. He is not mentioned in the 1949 Class History.
Remembrances
In a call with Pat McConnell '02 on October 12, 2017, CAPT Walter Marquardt, Jr., CEC, USN (Ret) remembered that Dean was "excellent at track, and a very good student." "He was also a very good friend. We never roomed together, but four years in close proximity — you get to know a guy." "We overlapped in Guantanamo for a while. He was there before me, in the late 50s. When I arrived he invited me over for dinner and we caught up." "He was a very good friend — I really enjoyed knowing him."
Cancer
Dean is the only alumni in Memorial Hall thus far identified who died of any kind of illness. It's unclear how it was linked to his service.