RICHARD J. PETERSON, CDR, USN
From USNA Virtual Memorial Hall
Birthdate & Date of Loss
| | |
| --- | --- |
| Date of birth: | December 19, 1927 |
| Date of death: | December 23, 1964 |
| Age: | 37 |
Lucky Bag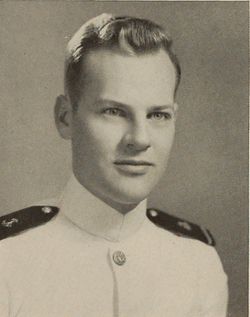 From the 1949 Lucky Bag:
Richard J. Peterson

Redondo Beach, California

This native son of California came to the sunny Severn's shores determined to make good at the Naval School. Much to the dismay of his classmates, his slide rule always seemed to grind out answers faster and with greater accuracy than did theirs, and his ability to ease through academics left him plenty of time to follow his first and great love, sailing. His sailing experience has been great and varied, and coupled with his ability, it made him a valued asset to the Navy entry in the 1946 Bermuda race. Although academics and sailing always managed to take up quite a lot of his time, Pete never failed for long to drag with the rest of us, and his queens were well known. As Pete goes to the fleet, he takes with him our best wishes for a happy and successful career.
He was also a member of the Boat Club.
Loss
From the February 1965 issue of SHIPMATE:
Cdr. Richard John Peterson, USN, died 23 Dec. at the Naval Hospital, Jacksonville, Fla., from injuries sustained in an aircraft accident on 22 Dec. at the Naval Air Station, Cecil Field, when he was piloting the plane. He was executive officer of VF-13. Military services were held at Arlington National Cemetery.

Richard was born 19 Dec. 1927 at Santa Ana, Calif. Survivors include his widow, Jean Crawford Peterson; a son, David Agnew, and a daughter, Leslie Crawford, of 4717 Apache Ave., Jacksonville; his mother, Mrs. Lottie Juliet Peterson of Seal Beach, Calif., and a sister, Mrs. Virginia Peterson Spanduau of San Diego, Calif.
He is buried in Arlington National Cemetery.
Related Articles
Frederic Smith '49 was also a member of the Boat Club.