FREDERIC W. SMITH, CDR, USN
From USNA Virtual Memorial Hall
Birthdate & Date of Loss
| | |
| --- | --- |
| Date of birth: | October 16, 1926 |
| Date of death: | February 8, 1965 |
| Age: | 38 |
Lucky Bag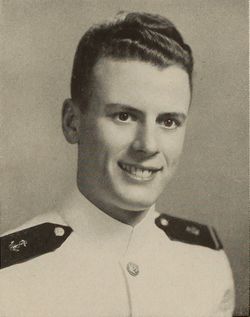 From the 1949 Lucky Bag:
Frederick W. Smith

Portland, Oregon

Although he swore that he was from South Weymouth, Mass. and from Portland, Oregon, Fritz's habits and tastes were those of a blue-blooded New Englander. After Deerfield Academy, Tufts College and one year in V-12, he commenced his Plebe Summer. He ran cross-country and track like his brother, Jim, and added wrestling for good measure. Such duties as Business Manager of the TRIDENT, sports staff of the LOG, Russian Club, and Boat Club memberships partially filled his days. Why partially? Well, during Second Class Year, Fritz took a correspondence course in Business Administration. On weekends, he could be found sailing in the yawl races with one of his many beautiful drags.
Loss
Frederic ("Wayne"?) was lost on February 8, 1965 when his A-3 Skywarrior crashed near NAS Whidbey Island, Washington. Two other aircrew were also lost. He is buried in Arlington National Cemetery.
From the March 1965 issue of SHIPMATE:
Cdr. Frederic W. Smith, USN, was killed in an aircraft accident on 8 Feb. while piloting an A-3 from Naval Air Station, Whidbey Island, Wash, on a low-level training bomb run. Interment was in Arlington National Cemetery on 12 Feb.

Cdr. Smith was born 16 Oct. at South Weymouth, Mass. Following graduation, from the Naval Academy in 1949, he served in MIDWAY, completed flight training, and was a jet photo reconnaissance pilot based in BOXER in the Pacific. His last tour of duty was with Heavy Attack Squadron Four.

Surviving are his widow, Suzanne McHenry Smith, and sons Frederick Walton 12, Dana Leigh 11, and Craig Baldwin 9, of 113 Crescent Loop, Oak Harbor, Wash.
Related Articles
Richard Peterson '49 was also a member of the Boat Club.