EARLE A. NASON, JR., LTJG, USN
From USNA Virtual Memorial Hall
Birthdate & Date of Loss
| | |
| --- | --- |
| Date of birth: | March 17, 1922 |
| Date of death: | October 25, 1944 |
| Age: | 22 |
Lucky Bag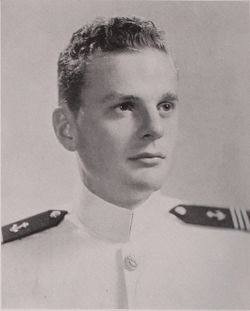 From the 1944 Lucky Bag:
Earle Augustine Nason, Jr.

Cranston, Rhode Island

Growing up in a New England environment, Earle had his mind set on becoming a doctor until he decided, after spending one year at Brown University, to enter the Naval Academy. His life, like that of his classmates, took a nautical turn. While learning the ways of the high seas, Earle found time to play plebe tennis, read consistently, keep up on the classical recordings, and handle two stripes. In the Masqueraders he won fame as the able portrayer of many an amorous role. With a far-reaching desire for knowledge and a naturally inquisitive mind, added to a pleasant personality, Earle will certainly excel as a naval officer.
The Class of 1944 was graduated in June 1943 due to World War II. The entirety of 2nd class (junior) year was removed from the curriculum.
Loss
From Find A Grave:
Lieutenant Nason, son of Mr. and Mrs. Earle A. Nason of 30 Friendly road, Cranston, was reported missing, last December when his ship, destroyer Hoel, was sank in the second battle of the Philippines, off Leyte.

Son of Earle A. Nason, formerly of this city, who served overseas in the World War as a chief yeoman in the Naval Reserve, he leaves a wife, Mrs. Julia McCaskey Nason of Lancaster, Pa. Besides his wife and parents, there are two brothers, Second Lieutenant Richard Nason of the Air Transport Command, who has seen service in both the China-Burma-India and Atlantic theatres and Ensign Robert Nason, with the 7th Fleet in the Pacific, and a sister, Miss Rosalie Nason, a student at Cranston High School.
USS Hoel (DD 533) was lost on October 25, 1944 in a heroic action against vastly superior Japanese surface forces that earned her the Presidential Unit Citation. "Only 86 of Hoel's complement survived; 253 officers and men died with their ship, at least 40 of them dying in the water while awaiting rescue."