RICHARD J. KROTH, LTJG, USN
From USNA Virtual Memorial Hall
Birthdate & Date of Loss
| | |
| --- | --- |
| Date of birth: | July 9, 1921 |
| Date of death: | October 25, 1944 |
| Age: | 23 |
Lucky Bag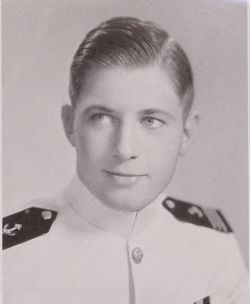 From the 1944 Lucky Bag:
Richard Jerome Krotkiewicz

Hamtramck, Michigan

On entering the Academy Krocky straightway started to make a place for himself in athletics, academics, the eye of the "Exec" Department and the hearts of his classmates. Plebe summer he won two bouts by knockout and dropped one by decision for the company boxing squad. Winter found him on the swimming team. By youngster year he was Navy's number one diver. He stood high in his class despite a lack of academic interest. His keen judgment and strong will won him four stripes. His many friends testify to his place in the esteem of his classmates.
He commanded the 2nd Battalion for the 1st set.
The Class of 1944 was graduated in June 1943 due to World War II. The entirety of 2nd class (junior) year was removed from the curriculum.
Loss
Richard was lost when USS Tang (SS-306) was sunk by a circular run of her own torpedo on October 24, 1944 in the Taiwan Strait.
Note that he changed his name at some point to Kroth from Krotkiewicz. On Eternal Patrol also lists him as a recipient of the Silver Star; unable to find another citation for this.