WILLIAM H. TURNER, LTJG, USN
From USNA Virtual Memorial Hall
Birthdate & Date of Loss
| | |
| --- | --- |
| Date of birth: | June 12, 1921 |
| Date of death: | October 24, 1944 |
| Age: | 23 |
Lucky Bag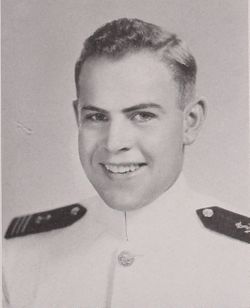 From the 1944 Lucky Bag:
William Harlan Turner

Golden, Colorado

The "hard rock" mines of Colorado sent us a fine specimen in "Golden Boy." A trained "savoir" from Colorado School of Mines, Bill with his smoking "slipstick" soon had stars on his full dress, and he was always helping less fortunate classmates. You had only to ask to see his gold ore samples or pictures of his true love to become a solid friend. Bill found plenty of time for Cosmo, bridge, and bunk drill, and, though his heart still yearns for the Rockies, he is looking forward to a great career as a "pig-boat" skipper. Wherever he goes his fine intellect and loyalty will win him many friends.
Married to Margaret Sarah "Peg" Lucas
The Class of 1944 was graduated in June 1943 due to World War II. The entirety of 2nd class (junior) year was removed from the curriculum.
Loss
William was lost when his submarine, USS Shark (SS 214), was sunk with all hands on October 24, 1944 in the Luzon Strait.
He was survived by his wife, Mrs. Margaret Lucas Turner.
On Eternal Patrol shows that he was awarded the Bronze Star; unable to find a citation or confirmation.