EDWARD P. SUPANCIC, LT, USN
From USNA Virtual Memorial Hall
Lucky Bag
From the 1948-B Lucky Bag: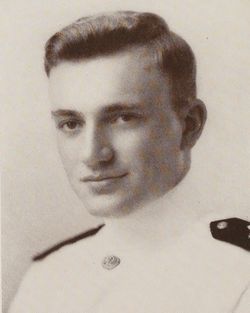 EDWARD PAUL SUPANCIC

EXPORT, PENNSYLVANIA

Strapping . . . work horse build and disposition . . . this fellow is one of those big hidden timbers that has held up our class by just being a solid member of the unit. Ed's potentialities are hidden by his carefree attitude and slightly reserved nature . . . don't let this fool you . . . he's a worker and has plenty of figuring ability to make it count. Appreciative of good humor . . . slightly above lowly skylarking . . . a character just as solid as his frame . . . couldn't put on an air if he had one. Square. . . right down to earth in everything he does . . . always cool and practical . . . loyal to his well-founded ideals and to anything he earnestly undertakes. Ed has made his own way wherever he has gone. . . he can be pretty stubborn but is usually dead right. Still his simple naturalness fits him for circulation in any circle. It's a job for his rustic well-scrubbed face to look anything but pleasant . . . the sturdiness of an oak . . . patience plus . . . common sense by the bushel . . . perseverance unsurpassed . . . acumen . . . adaptability . . . with a main battery like that there's just no holding him.
Ed was on the 2nd Regimental Staff in the fall. He graduated from the 17th Company with the class of 1948-B in June 1948. (The top half of the class academically, designated 1948-A, graduated in June 1947 as the last wartime-accelerated class.)
Loss
The Courier-Gazette (McKinney, Texas) on August 5, 1955 reported that Ed was killed in a "jet trainer" crash in Texas. He and the other officer lost, Lieutenant Commander Carlo Palermo, 32, were stationed at Naval Air Station Kingsville. The crash occurred on August 4, 1955.
Ed is buried in Pennsylvania.
Related Articles
Charles Strahley '48 and Robert Smith '48 were also on the same page of the 1948-B Lucky Bag, which was organized by state.
Robert Smith '48 was also in 17th Company.