CHARLES G. STRAHLEY, LTJG, USN
From USNA Virtual Memorial Hall
Lucky Bag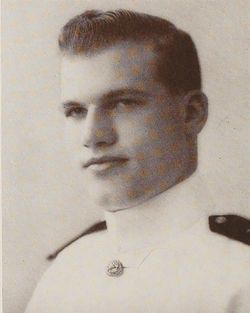 From the 1948-B Lucky Bag:
CHARLES GLASGOW STRAHLEY

DREXEL HILL, PENNSYLVANIA

A great big beautiful hunk of man . . . the Moose . . . came to us direct from Upper Darby High School . . . one of the more privileged group of midshipmen known affectionately as Rip's boys among their less favored contemporaries. Chuck has played four years of football for Navy . . . has left his mark on four generations of opposing teams . . . not only has he distinguished himself on the field of battle but also in the classroom . . . where his flashing slide rule and photographic mind strike terror in the hearts of his classmates. His rare combination of brawn and brains unite to make Chuck a formidable adversary in everything from a brawl to an academic discussion. His expansive personality draws him many friends ... an ardent farmer . . . hunter . . . fisherman . . . Chuck enjoys the quietide of the country and the edge it gives his appetite . . . which is already voracious ... a lover of the finer things in life . . . symphony or a good book ... a pool shark and an infamous snake . . . Charlie's diversity in his many fields of endeavor keep him well on top. A carefree attitude and his love for adventure make his life the envy of those around him . . . stubborn . . . who wouldn't be with 20 inch biceps? . . . trust no one but yourself . . . and only yourself when you can keep an eye on him.
Charles received a letter of commendation from the Superintendent, "addressed to those midshipmen of the graduating class who have demonstrated outstanding officerlike qualities, and who have contributed most by precept and example to the development of these qualities within the Brigade." Charles was a member of the football team, commanded the 1st Regiment in the winter, and commanded the 1st Battalion in the spring. He graduated from the 1st Company with the class of 1948-B in June 1948. (The top half of the class academically, designated 1948-A, graduated in June 1947 as the last wartime-accelerated class.)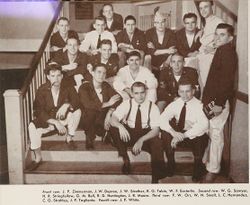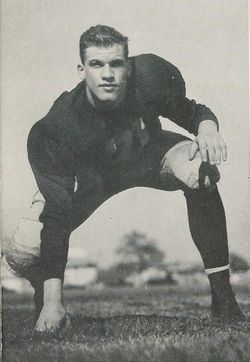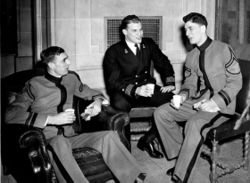 Loss
From Find A Grave:
During the Korean War, he was a pilot of a F9F-2 Pantherjet fighter with Fighter Squadron 52, aboard the aircraft carrier USS VALLEY FORGE (CV-45). On March 21, 1952, he led a flight against an enemy rail network near Hamhung, North Korea. Although his aircraft was struck several times by enemy anti-aircraft fire, he continued the attack until his aircraft was destroyed. He bailed out but became entangled in the shrouds of his parachute in the water and drowned. His remains were not recovered.
Silver Star
From Hall of Valor:
The President of the United States of America takes pride in presenting the Silver Star (Posthumously) to Lieutenant, Junior Grade Charles Glasgow Strahley (NSN: 0-513261), United States Navy, for conspicuous gallantry and intrepidity in action while serving with Fighter Squadron FIFTY-TWO (VF-52), embarked in U.S.S. VALLEY FORGE (CV-45), in action against hostile North Korean and Chinese Communist forces. On 21 March 1952, Lieutenant, Junior Grade Strahley led a section of jet fighters on a strike against the vital enemy rail network in the vicinity of Hamhung, North Korea, With the highest skill and precision, Lieutenant, Junior Grade, Strahley destroyed sections of the track in four separate locations on four attacks. On the fourth attack, made through a hail of crossfire from automatic weapons, his aircraft was struck in several vital locations, and immediately began trailing smoke indicating an engine fire. However, the smoke dissipated shortly afterward and Lieutenant, Junior Grade, Strahley unhesitatingly returned to the target to make four more attacks, severing the enemy rail track in two more vital sections. As he recovered from his last attack, Lieutenant, Junior Grade,. Strahley's aircraft was again critically struck by a barrage of automatic weapons fire causing a dense fire in the engine compartment and the plane to erupt volumes of heavy smoke, whereupon he immediately flew a direct course to the coastline. By the time he was safely clear of enemy territory, however, his cockpit was enveloped in flames and he was forced to bail out. His body was seen to strike the horizontal stabilizer and though his parachute opened normally his body was not recovered. The gallant fighting spirit demonstrated by Lieutenant, Junior Grade, Strahley in the face of grave peril, coupled with the hazard of making several attacks in a flak-damaged aircraft is most evident of unbounded courage and bravery. His actions reflected great credit upon himself and upheld the highest traditions of the United States Naval Service.

General Orders: Commander 7th Fleet: Serial 1602 (July 1, 1952)
Action Date: March 21, 1952
Service: Navy
Rank: Lieutenant Junior Grade
Company: Fighter Squadron 52 (VF-52)
Division: U.S.S. Valley Forge (CV-45)
Family
Several sites list him as unmarried. He is named in a poorly-scanned copy of the Corpus Christi Caller-Times in 1950 describing a wedding; possible he was a member of the wedding party.
Other
An aviation illustrator and artist chose Charles' name for his illustration of a F9F-2.
Related Articles
Edward Supancic '48 and Robert Smith '48 were also on the same page of the 1948-B Lucky Bag, which was organized by state.
James Strother '48 was also in 1st Company.

David Swenson, Jr. '48 and Robert Smith '48 were also also on the football team.