RALPH W. BROWN, JR., LTJG, USN
From USNA Virtual Memorial Hall
Lucky Bag
From the 1948 Lucky Bag: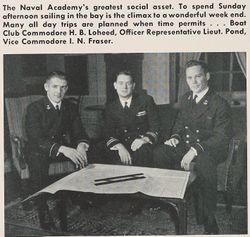 Loss
Ralph was lost on March 4, 1952 "in a flight accident over the Caribbean." He "participated in the Bermuda race after graduation" and then reported to USS Mindoro. Later, he "attended flight school at Pensacola." (Information from September 1954 issue of Shipmate.)
He has a memory marker in Washington, D.C.
His date of death was March 4, 1952, but there is no additional information in the Class of 1948 Operational Losses list or the May 1953 issue of Shipmate.
Related Articles
Hubert Loheed '48 and Ian Fraser '48 were also all members of the Boat Club. Hubert was Commodore and Ian was Vice-Commodore.
Ralph is one of 46 members of the Class of 1948 on Virtual Memorial Hall.