RALPH W. BROWN, JR., LTJG, USN
From USNA Virtual Memorial Hall
Date of birth: July 9, 1926
Date of death: March 4, 1952
Age: 25
Lucky Bag
From the 1948 Lucky Bag: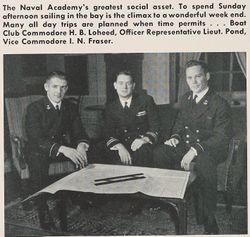 Loss
Unable to find much information on Ralph's life or loss beyond his gravestone and a date of death of March 4, 1952. The Class of 1948 Operational Losses document has only a "?" as cause of death.
Related Articles
Hubert Loheed '48 and Ian Fraser '48 were also all members of the Boat Club. Hubert was Commodore and Ian was Vice-Commodore.
Ralph is one of 46 members of the Class of 1948 in Memorial Hall.