RALPH W. BROWN, JR., LTJG, USN
From USNA Virtual Memorial Hall
Lucky Bag
From the 1948-B Lucky Bag: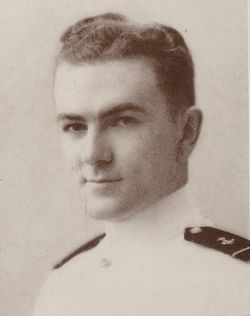 RALPH WELLS BROWN, JR.

HYATTSVILLE, MARYLAND

Brownie is the only man in the Academy who never complains about the Maryland weather . . . according to him, if it rains ... it is a good day for the ducks. If the sun shines . . . which it occasionally does . . . calls Maryland the poor man's California. Coming from the Academy's own back yard . . . Hyattsville, Maryland, he has had no cause to complain of being homesick. With many interests close at hand . . . usually makes himself scarce on free afternoons. As a by-product of local finishing school . . . Bullis Prep . . . Randle's School ... he has had a good background for working crossword puzzles and raising tropical fish. One of the quaint habits he has acquired during the past four years here is dragging. . . not once. . . not twice. . . but three times each week ... in short . . . each time the opportunity presents itself. Ralph, having sailed the Chesapeake by seaman's eye for several years, became a dependable member of the Varsity Sailing Team. However, his first and only love is automobiles. When at home he usually may be found engrossed deeply in the inner workings and hidden mechanisms of his latest souped-up engine. Being a good mixer in any crowd, Brownie has made many friends ... is at home on land or sea . . . always carrying with him the best wishes of these friends.
Ralph was a member of the Boat Club. Unable to find which company he was a member of. He graduated with the class of 1948-B in June 1948. (The top half of the class academically, designated 1948-A, graduated in June 1947 as the last wartime-accelerated class.)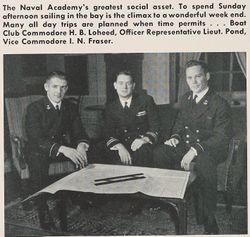 Loss
Unable to find much information on Ralph's life or loss beyond his gravestone and a date of death of March 4, 1952. The Class of 1948 Operational Losses document has only a "?" as cause of death.
Related Articles
Hubert Loheed '48 and Ian Fraser '48 were also all members of the Boat Club. Hubert was Commodore and Ian was Vice-Commodore.