IAN N. FRASER, LTJG, USN
From USNA Virtual Memorial Hall
Date of birth: March 25, 1924
Date of death: May 6, 1953
Age: 29
Lucky Bag
From the 1948 Lucky Bag: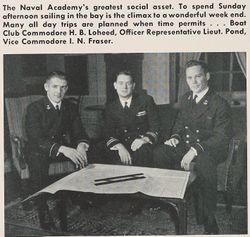 Loss
Ian was lost on May 5, 1953 when his A-1D Skyraider crashed into the Atlantic Ocean off the coast of New Jersey. He was flying from USS Hancock. It doesn't appear that he was married.
Related Articles
Hubert Loheed '48 and Ralph Brown, Jr. '48 were also all members of the Boat Club. Hubert was Commodore and Ian was Vice-Commodore.
Robert Reem '48 was also in 3rd Company.
Don Stephens '48 was also on the 150 pound football team.