IAN N. FRASER, LTJG, USN
From USNA Virtual Memorial Hall
Date of birth: March 25, 1924
Date of death: May 6, 1953
Age: 29
Lucky Bag
From the 1948 Lucky Bag: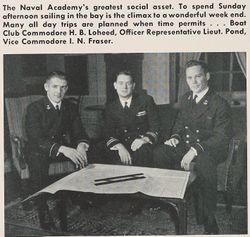 Loss
Ian was lost on May 6, 1953 when his A-1D Skyraider crashed into the Atlantic Ocean off the coast of New Jersey. He has a memory marker in New York.
From the October 1954 issue of Shipmate:
Scotty went directly to flight training after graduation. He was killed in a night flying accident while with Composite Squadron 33 in USS Franklin D. Roosevelt, on 6 May 1953. He was highly praise for his ability and devotion to duty by his commanding officer in a letter which appeared in this column in the September 1953 issue. He was survived by his wife, Patricia, and their [one year old] daughter, Carol George.
He had been a member of the squadron for almost three years. The loss was presumed to be due to vertigo.
Related Articles
Hubert Loheed '48 and Ralph Brown, Jr. '48 were also all members of the Boat Club. Hubert was Commodore and Ian was Vice-Commodore.
Robert Reem '48 was also in 3rd Company.
Don Stephens '48 was also on the 150 pound football team.
Ian is one of 46 members of the Class of 1948 on Virtual Memorial Hall.