JAMES W. STROTHER, CAPT, USAF
From USNA Virtual Memorial Hall
Date of birth: September 23, 1926
Date of death: May 2, 1953
Age: 26
Lucky Bag
From the 1948 Lucky Bag: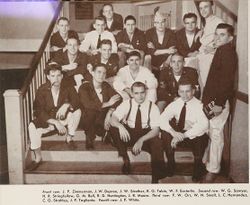 Distinguished Flying Cross
Could not find the citation, but his gravestone claims a James was awarded a Distinguished Flying Cross.
Obituary
From Abilene Reporter News (Abilene, Texas) May 8, 1953, pg 8:
Military Funeral Set at San Angelo For Abilenian's Kin

The body of Air Force Capt. James W. Strother, nephew of an Abilene woman, has been taken to San Angelo for military funeral and burial…

Capt. James W. Strother, son of Brig. Gen. J.H. Strother (USMC) and Mrs. Strother of Dadeville, Ala., was killed May 3 when his jet trainer crashed 100 miles north-west of Phoenix, Ariz. Lt. Maurico H. Havercroft, a Royal Air Force student from Hull Yorshire, England, also died in the crash.

He was the nephew of Mrs. Minerva Murphy of Abilene. …

A graduate of the US Naval Academy, Capt. Strother flew 100 F-80 missions during the year he spent in Korea with the Fifth US Air Force. He was serving as an instructor in air combat tactics at the time of his death.
Family
Though the obituary above does not mention her, it appears James was married to Minerva Jane Glass Strother. Her headstone is next to his.
Related Articles
Charles Strahley '48 was also in 1st Company.
James is one of 46 members of the Class of 1948 in Memorial Hall.