HUBERT B. LOHEED, CAPT, USN
From USNA Virtual Memorial Hall
Lucky Bag
From the 1948 Lucky Bag: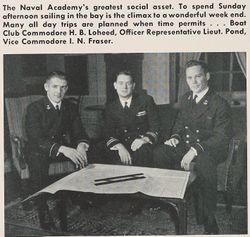 Loss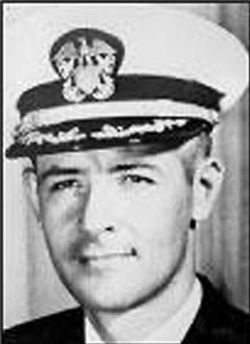 From Wall of Faces: From POW Network:
Commander Hubert B. Loheed was the Commanding Officer of Attack Squadron 146. On February 1, 1966, he launched in his A-4C Skyhawk attack aircraft leading a flight of four aircraft from the aircraft carrier USS RANGER (CVA 61).

Once the flight reached their target over North Vietnam, Cdr. Loheed and his wingman made a section run on the target, releasing their ordnance. Both aircraft then entered a steep climb. Cdr. Loheed's aircraft then rolled port and entered a steep dive with his wingman 200-300 feet behind him. Cdr. Loheed's plane was last seen as it dove into cloud overcast at an altitude of 1000 feet. The last known location of the aircraft was in Nghe An Province, North Vietnam, about 5 miles from the coast, and about 5 miles northwest of the city of Phu Dien Chau.

Search efforts were conducted, but were unsuccessful in making radio or visual contact with Cdr. Lohhed. It was the opinion of his wingman and others that he could not have survived the possible crash or ejection of his aircraft. He was placed in Missing In Action status, and nine years later, presumed to be dead.

…

During the period he was maintained missing, Hubert B. Loheed was promoted to the rank of Captain.
His remains were repatriated in 1994; he was buried in Arlington National Cemetery on October 17, 1994. He has a memory marker at the US Naval Academy Cemetery.
Remembrances
I love you and I miss you Dad. Forever. YOUR DAUGHTER, 3/16/06
My Commanding Officer VA 146

Cmdr. You are a hero! We all went out in San Francisco the night before we left for the South China Sea and Vietnam. Berry was there with his girlfriend and I was setting next to your wife. The last round was bought by you and it was a pitcher of beer for each, 8 pitches! About a week later you came through the enlisted quarters like you did a lot of times after a hop to speak to the men. You stopped by my bunk to ask me how I was doing, I had kinda made a fool of myself that night in San Francisco! You smiled and said how are you doing Collins, I said fine sir and then you walked away! PR1 Arthur T. COLLINS RETIRED, 3/10/14
I still remember the day when we found out about your being shot down. I was a student at Akers School @ Lemoore NAS. Your son, Brad was what I considered a good friend of mine growing up. Whenever I see the Vietnam memorial wall I try to find you and think of those innocent days of our you young lives. May you continue to rest in peace. I wore your MIA bracelet for many years. JIM SULA, 6/18/14
I fortunate to serve in Attack Squadron Twelve (VA-12) with Hugh.

I have many warm memories of him. He was a very good friend and a great pilot.

In Jacksonville I called him early in the morning so that we could leave our daughter Brooke with him and Vilma on our way to the hospital for the birth of our son Peter. We left Brooke (2) with them and as we hurried of in out MG he gently threw Brooke in the air with a loud " Go for it"

I still miss him. WILLIAM J. DOODY, WILLIAMDOODY@AOL.COM, 6/18/16
Family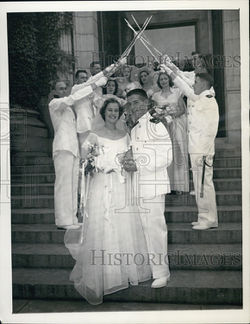 A picture of his wedding day is available for purchase from The Historic Images Outlet.
He was survived by his wife, Vilma, and children Lorene, Brad, and Peter. Vilma's obituary, from the Coronado Eagle & Journal:
Vilma Loheed Mitchell (Oct. 18, 1928 - May 11, 2016)

Coronado Eagle & Journal
Friday, May 20, 2016

Precisely at noon, Wednesday, May 11, 2016, Vilma Loheed Mitchell, a long time resident of Coronado, passed away peacefully in her sleep, attended by her three loving children, Lorene, Brad and Peter.

Vilma was born on Oct. 18, 1928 in Lakewood, NJ, to Lorene McBride Smith and William Edward Oberholtzer. Her father, a graduate of the United States Naval Academy, traveled extensively as a meteorologist and consequently Vilma saw many duty stations growing up. Some of the most notable were Honolulu; Kodiak, Alaska; Coronado; and Annapolis, Md. Each was noteworthy. Vilma was present at Pearl Harbor when the Japanese attacked on December 7, 1941, precipitating the U.S. Congressional declaration of war against Japan and Germany. In Alaska, she had a serious boyfriend who was killed in a flying incident that broke her heart. She attended Coronado High School on the Island that would become her beloved home the last forty years of her life. In Annapolis, during a winter mixer at the Naval Academy in 1948, Vilma met the love of her life, Hubert Bradford Loheed, who would become her husband June of that year upon his graduation and become the father of her three children. Due to the loss of her boyfriend in Alaska, Vilma tried to dissuade Hugh from becoming a navy pilot, his career choice. Her mother intervened and Hugh went on t0 earn his Navy wings at Pensacola, Fl, and a stellar career was launched.

As her young family grew they had wonderful times in Jacksonville, Fl; Chicago; Newport, RI; Alexandria, Va; and Lemoore Naval Air Station, California. Sadly, Hugh was killed in action on a section attack run in his A4 Skyhawk over North Vietnam on Feb. 1, 1966, and Vilma became a widow with three children at the age of 38.

In 1973 Vilma followed her parents to Coronado. They had sold their home in Monterey, Ca, and moved aboard their Columbia 43 sailboat, Taku III, and resided at the Coronado Yacht Club. During the summer of 1975 Vilma met the man who would become her second husband, Hayden Mitchell. They had a romantic courtship, wedding and honeymoon, but fate would strike another awful blow and Hayden passed away before Christmas that same year. Hence Vilma became twice a widow.

In an unexpected twist of fate, one of the attendants at Vilma and Hugh's wedding at the Naval Academy, Hugh's classmate and close friend, David A. Hurt, Jr., happened to learn that Vilma was residing in Coronado. At the time he was in Florida, but arranged to come and meet her. A love affair blossomed culminating in a marriage that lasted nearly eleven years. David passed away just before his 90th birthday in the very bed where Vilma would a few weeks later breathe her final breaths.

When Vilma passed on Wednesday she was thrice a widow. Always stoic and strong she was an inspiration to all. Her years in Coronado were punctuated by various interests and many wonderful friendships. You'd be hard pressed to find someone who didn't love Vilma. Her charm and wry sense of humor; her generosity and gentle demeanor were endearing to all who knew her.

She is survived by her children, Lorene Loheed Morgan (Paul Moose), Hugh Bradford Loheed and Peter Scott Loheed (Robyn Renee Loheed); four step sons, David, Doug, Don and Dennis Hurt; five granddaughters, Keisla Loheed Burke, Ariel Omega Loheed Young, Megan Renee Loheed, Heather Victoria Loheed, Jenna Roberta Loheed; three great granddaughters Madison Lorene Burke, Hailey Bridgett Burke, and Kendall Denise Burke; along with many good friends and relatives.

Mother faced many a trial or tribulation with her fond perspective "this too shall pass." And now, she, too has passed into eternity. Vilma will be sorely missed, and forever loved.
Related Articles
William Rogers, Jr. '48 is on the same page of the 1948-B Lucky Bag, which was organized by state.
Ian Fraser '48 and Ralph Brown, Jr. '48 were also all members of the Boat Club. Hubert was Commodore and Ian was Vice-Commodore.
Richard Schneider '48 was also in 18th Company.
Hubert is one of 46 members of the Class of 1948 on Virtual Memorial Hall.