EDWARD R. HOLT, JR., LCDR, USN
From USNA Virtual Memorial Hall
Date of birth: July 6, 1915
Date of death: August 6, 1945
Age: 30
Lucky Bag
From the 1939 Lucky Bag:
Loss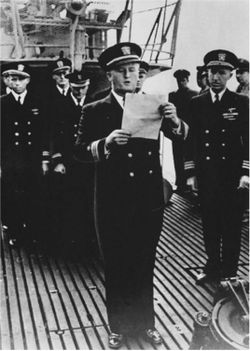 Edward was lost when USS Bullhead (SS 332) was sunk, probably by Japanese aircraft, on or around August 6, 1945, in the Java Sea. He was only a month past his 30th birthday and was said to be one of the youngest submarine skippers in the Navy. He had made ten previous patrols.
He is discussed extensively in Overdue and Presumed Lost: The Story of the USS Bullhead by Martin Sheridan.
His career and loss is also recounted on the Clemson Alumni site; he majored in architecture and left after his sophomore year.
His wife was listed as next of kin.
Several sites claim he was awarded the Navy Cross, but unable to find a citation and he is not listed with other recipients. Both of these facts are highly unusual for this award. There is no mention of the award in contemporaneous reporting, either, nor in an article about Bullhead from 1981.
Edward is one of 75 members of the Class of 1939 in Memorial Hall.