EDWARD R. O'NEILL, LT, USN
From USNA Virtual Memorial Hall
Lucky Bag
Loss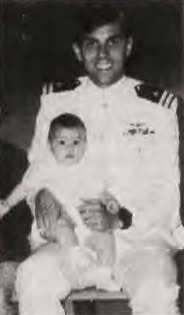 From ibiblio.org:
An HH-46 Sea Knight from Inchon (LPH-12) crashed in the Atlantic Ocean about 500 miles northeast of Bermuda. The twin-rotor helicopter was assigned to Helicopter Combat Support Squadron 6, Det 1, NAS Norfolk, VA. Missing and presumed dead are LT. Edward "Randy" O'Neill, LT. Michael Tanner, and AT3 Patrick Bleakney. Airman Brian Darley was rescued from the sea by a boat from Trenton (LPD-14) and treated for a hip dislocation, broken wrist and minor scrapes and bruises. Inchon had commenced a scheduled six-month Mediterranean Sea deployment on 5 Jan. 10 Jan 1994.
Obituary
From Philly.com on January 20, 1994:
Lt. Edward "Randy" O'Neill, 27, of Portsmouth, Va., formerly of Lafayette Hill, a Navy helicopter pilot attached to the amphibious assault ship Inchon, died when his helicopter crashed into the Atlantic Ocean.

Lt. O'Neill was one of three missing naval aviators presumed dead after their HH-46 Sea Knight helicopter crashed Jan. 10 about 500 miles east- northeast of Bermuda while on a routine training mission.

"The Navy has discovered the crash site about five miles from the Inchon, and an investigation is continuing," said his brother, Kenneth O'Neill.

Lt. O'Neill was born in Lafayette Hill and graduated in 1984 from La Salle College High School. He attended Villanova University for a year on a Navy ROTC scholarship and then transferred to the U.S. Naval Academy in Annapolis, from which he received a bachelor's degree in history in 1989.

After he received his commission as an ensign, Lt. O'Neill took flight training and received his aviator's wings in March 1991. Two months later, he reported to Helicopter Combat Support Squadron 6 for his first tour of duty and was assigned as first lieutenant division officer and Detachment One division officer.

Lt. O'Neill had served in the Mediterranean with Detachment One aboard USS Detroit as assistant operations officer. On Jan. 5, he was deployed to the Inchon, where he was division officer and weapons officer, among other responsibilities.

At the time of his death, Lt. O'Neill had received the Battle Efficiency Ribbon, the National Defense Medal and the Sea Service Ribbon.

In addition to his brother, Lt. O'Neill is survived by his wife of two years, Michele Kin O'Neill; a year-old son, Michael; his father, William; and a sister.
From the March 1995 issue of Shipmate:
Lt. Randy O'Neill died in a helicopter accident on 10 January 1994, on a search and rescue training mission while deployed on the USS INCHON with Detachment ONE of Helicopter Combat Support Squadron SIX. Memorial services were held at St. Philip Neri church in his hometown and at the U.S. Naval Academy Chapel on the 28th of April, which would have been his 28th birthday.

Randy was born in Philadelphia and grew up in nearby Lafayette Hill. He attended Villanova University for one year prior to being inducted into the Naval Academy. He earned a degree in History, then reported to Pensacola for flight training. He was designated a Naval Aviator in Febraary of 1991. In May of that year, he reported to HC-3 in San Diego for training in the CH-46. In October, he completed qualifications and started duty at HC-6. His initial duties were as First Lieutenant and the Det ONE Division Officer.

Randy was married to Michele on December 21st, 1991 at the Naval Academy Chapel, and they settled in Portsmouth, Virginia. He then deployed to the Meditertanean with Detachment FOUR on the DETROIT and served as the Det Operations Officer. His son, Michael Ryan was born on 7 December, 1992. Randy deployed with Det ONE on the INCHON on 5 January, 1994, while serving as the Division Officer, NATOPS Officer, and Weapons Officer. While in the Squadron, Randy was awarded the battle efficiency ribbon, the National Defense Medal, and the Sea Service Ribbon.

As a friend, classmate, and company-mate, I'll always remember Randy ribbing people who took things too seriously. He would often compare something at the Academy to his life as a Villanova student and declare he'd made a big mistake in coming to USNA, all the while being one of the most dedicated and professional guys I knew. He was a devoted father to Michael and a wonderful husband to Michele. Everyone who knew him will regret his loss.

Randy was survived by his wife and son, his father William, brother Kenneth, and sister Sharon O'Neill Hillston. Michele has been putting together a book with stories about Randy and photos of him for Michael Ryan; she would greatly appreciate any contributions to this memorial from Randy's friends. Her address is 1505 Lake Christopher Drive, Virginia Beach, VA 23464, and I can be contacted at (410) 293-7631 with questions.

Lt. John Cunningham, '89
Related Articles
Michael Tanner '88 was also lost in this crash.
Edward is one of 6 members of the Class of 1989 on Virtual Memorial Hall.