EDWIN W. CARDIN, CAPT, USAF
From USNA Virtual Memorial Hall
Edwin Wayne Cardin attended the Naval Academy the Class of 1977, but unable to determine when he left or why.
Loss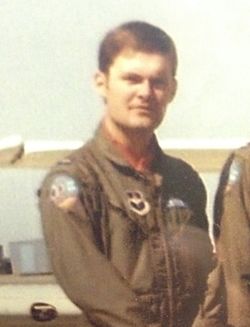 From Chonology of Kadena AFB, Japan:
29 December 1982 - Two F-15 aircraft crashed into the ocean. One of the pilots was rescued; however, the body of Capt. Edwin W. Cardin, 67th Tactical Fighter Squadron, was never found.
He was survived by his wife, who was a 1975 graduate of Southeast Missouri State University; she established a memorial scholarship in his name at that institution.
He has a memory marker in Missouri; he was a native of Cape Girardeau, Missouri.
Biography
From the plaque in Cardin Hall, Kadena AFB, Japan:
Capt Edwin "Cowboy" Cardin was born on November 16, 1952 and raised in Cape Girardeau, Missouri. He earned his Private Pilot's license at age 17 and graduated from Southeast Missouri State University with an Air Force commission in 1975.

Lt Cardin was an Outstanding Graduate of the Intermediate Pilot Training Class 77-04 at Laughlin AFB and [obscured by glare] Eagle training at Luke AFB. He continued flying the F-15 at Holloman AFB in preparation for assignment as initial cadre for Pacific Air Forces' first F-15 squadron.

On September 29, 1979, Lt Cardin landed F-15C Tail #78-0493 on Kadena AB, marking the arrival of the first F-15 squadron. Cowboy established himself as a very outgoing, talented fighter pilot and graduated from the F-15 Fighter Weapons School at Nellis AFB. He was the 67th Tactical Fighter Squadron's Weapons Officer and a member of Kadena's Overall Winning Team at the USAF's William Tell Air-to-Air Meet at Tyndall AFB in 1982.

On December 29, 1982, Capt Cardin was leading a defensive BFM [basic fighter maneuvers] sortie in W-173 [operations area], when he collided with his wingman during slow speed vertical flight. His wingman ejected safely, but Cowboy was killed in the collision and his body was not recovered. He was survived by his wife Rebecca and two year old son Geoffrey.

On January 29, 1983, Becky established an endowed scholarship in her husband's name to be awarded annually to a non-scholarship AFROTC cadet at Southeast Missouri State University. On June 16, 1983, Building 3382, known as the "triple-squadron" building housing the 12th, 44th and 67th TFS at Kadena AB, was dedicated in his memory.

Cardin Hall is now home to the 18th Operations Support Squadron and was rededicated on December 20, 2013.
Namesake & Remembrance
From Kadena AFB News:
KADENA AIR BASE, Japan -- The 18th Operations Support Squadron rededicated Cardin Hall, Bldg. 3382, Dec. 20 [2013] on Kadena Air Base, Japan, 30 years after its initial naming.

But, who was Cardin?

In 1979, 18 F-15 Eagle aircraft flew from the United States to Okinawa, marking a historic day for the aircraft and the Air Force. Kadena Air Base became the first overseas location to obtain the five-year-old aircraft, and also home to Capt. Edwin "Cowboy" Cardin.

"Cardin was an F-15 pilot who was assigned to the initial cadre of the 67th Fighter Squadron," said Lt. Col. Robert Pekarek, 18th OSS commander. "It was the first time the F-15 was based in the Pacific and it just so happened that the 67th was chosen to be that first squadron. It was quite an honor for him because he was a lieutenant chosen to be on this initial cadre."

Cardin established himself as an outgoing, talented fighter pilot which gave him a unique opportunity: weapons school.

"He was doing very well in terms of his flying and quickly established himself as being a very competent, credible fighter pilot," Pekarek said. "(He was) sent to weapons school and when you graduate from weapons school you become the squadron weapons officer."

However, being a fighter pilot is very dangerous. After flying here for more than three years, graduating weapons school and becoming the weapons officer for his squadron, Cardin lost his life during a training mission.

"(Cardin) was killed in a mid-air collision between two aircraft when they were (training)," Pekarek said. The pilots were practicing basic fighter maneuvers, or what is sometimes called dog fighting. "It is very dangerous; it's like chasing each other with your cars. Unfortunately it was a mishap and he was killed."

Cardin left behind a widow and two-year-old son. A month after his death, a scholarship was started in his honor.

"(His former wife, Becky Cardin) started a scholarship at Southeast Missouri University, which still is going on to this day," Pekarek said. "Later, on June 16, 1983, Bldg. 3382 was dedicated by being named Cardin Hall."

Pekarek found interest in corresponding with Cardin's widow and son during the planning process of the rededication.

"I got to correspond with his widow and with his son and you talk about bringing history to life," he said. "We talk about history being the past but history is not just past, it is very present and obviously it points toward the future. This is a living legacy."

"Like a lot of things that are dedicated, they aren't forgotten, but when (the squadrons) moved they didn't move the plaque," Pekarek said. "When I was here my first time I was in the 67th and I knew this building had been dedicated to him but I didn't think too much of it until I came back here. I said, nobody has done anything about this plaque and it's looking kind of bad and corroded and said one of the things we're gonna do while I'm here is rededicate it."

Pekarek added that rededicating a building represents a renewed commitment and a remembrance and a reflection of the sacrifices made every day in pursuit of freedom.

"The rededication is appropriate because we're renewing our commitment to preserving his legacy," Pekarek said. "Also, the reason this place was dedicated is primarily to honor his sacrifice and it's a reminder for everyone... of the sacrifices that have been made."

He added the importance of maintaining heritage and honoring sacrifices in both war and peace time.

"It's been 30 years and essentially an entire generation has passed, so it's appropriate to renew this honor and make sure it's preserved for future generations," Pekarek said.

Lastly, Pekarek expressed his appreciation for the volunteers and the people who dedicated their time and efforts in making the event a success.

"They've volunteered their time to paint, to clean plaques, just all those little things that are taken for granted when you do anything" Pekarek said. "Not only did I appreciate that, but it helps bring the story back to life and makes it part of our heritage as well."
Memorial Hall Error
It's unclear how Edwin's name has been overlooked in Memorial Hall. He is listed with both date and location of death in the Register of Alumni, though there is no indication he was a member of the Air Force. His loss was also noted in the March 1983 issue of Shipmate.
Edwin is one of 16 members of the Class of 1977 on Virtual Memorial Hall.